The Greater Omaha Chamber's prestigious annual membership meeting is where the Chamber's immediate past chair recaps the accomplishments of the prior year, the Chamber's President and CEO unveils the annual report and the newly installed chair presents the Chamber's priorities and direction for the current calendar year.
The Chamber also honors award winners who have contributed to Omaha's community betterment. Three awards are presented during the meeting:
Chairman's Award of Excellence
Headliner of the Year
Volunteer of the Year
This event features regional leaders and highlights the positive impact our members and volunteers have on the community.
#GOCAnnualMeeting
Registration is now closed for Annual Meeting 2022.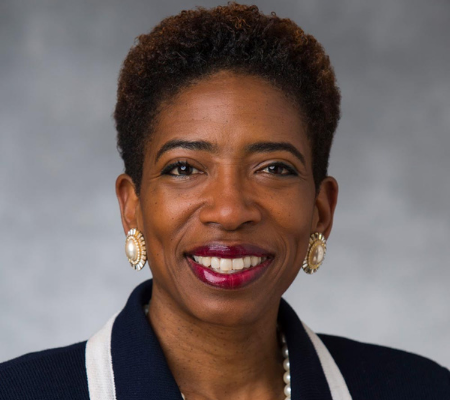 Carla Harris
Managing Director, Morgan Stanley
Carla Harris is a Vice Chairman, Wealth Management, Managing Director and Senior Client Advisor at Morgan Stanley, responsible for increasing client connectivity and penetration to enhance revenue generation across the firm. She formerly headed the Emerging Manager Platform, the equity capital markets effort for the consumer and retail industries, and was responsible for Equity Private Placements. Ms. Harris has extensive industry experiences in the technology, media, retail, telecommunications, transportation, industrial, and healthcare sectors.
2:15 – 3:15 p.m.      Exclusive Leadership Session with Carla HarrisThis session is for sponsors only. Physical tickets will display 'VIP' to grant eligible attendees' access. This session does not have a live stream option available.
3:30 – 5 p.m.      Annual Meeting program with Keynote Speaker, Carla Harris
5 – 6 p.m.      Networking Reception
Chairman's Award of Excellence
Janet Noll, Vice President, Flood Communications, Telemundo Nebraska TV, Radio Lobo 97.7FM
Volunteer of the Year
Dr. Jeffrey Gold, Chancellor, UNMC and Executive Vice President and Provost, University of Nebraska System
Past Honorees
CORPORATE SPONSORS
ACCESSbank
C3 Brands
Carson Wealth
Cox
Farm Credit Services of America
Flood Communications
Great Plains Communications
Lindsay Corporation
Olsson, Inc.
OPPD
PayPal
Signature Performance
TR Construction
Union Pacific
University of Nebraska at Omaha
University of Nebraska Medical Center
U.S. Bank
Valmont
PHOTO AND VIDEO RELEASE
By registering and participating in this event, you consent to the recording of your likeness, image, and/or voice and authorize the Greater Omaha Chamber to use photographs, video, and audio recordings containing your likeness, image, and/or voice in any medium for any purpose.