Who We Are
Passionate about where we are from – and where we are going. Inspired
by the potential of our region and the people who call it home. We do
more than live in this community, we imagine what it could be and push it
to greater, harnessing vision, expertise and the power of 'we' to raise our
quality of life.
We are the Greater Omaha Chamber and our community is counting on us.
We are advocates, catalysts and partners, one of the country's largest, strongest chambers.
More than 3,100 member businesses
5-star accredited by the U.S. Chamber of Commerce
Our goals include:
Advocating for a strong business climate and member businesses
Creating opportunities for business connections and member visibility

Pursuing investment and jobs for the region
Strengthening leaders and the community

Enhancing the region's brand and image
Together, we accomplish so much more than any one person or business can accomplish alone.
Message from The President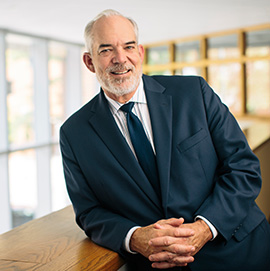 The Greater Omaha Chamber embraces its role as an agent of change.
We encourage change that improves our quality of life. We instigate change that increases our competitiveness. We value change that makes Omaha a more attractive region for people to live, work and raise families.
The companies that call Omaha home are a diverse mix of Fortune 500 headquarters and small and medium-sized businesses. We appreciate each one and work tirelessly for all to ensure that Omaha remains among the nation's most vibrant and competitive cities.
Go ahead, dream big. We will continue to collaborate with our public, private and nonprofit partners to provide a nurturing and electrifying entrepreneurial environment.
Dreamers become achievers in Greater Omaha, and we hold our achievers in the highest regard. Your work and leadership are critical to the success of this city, this region and this nation. It is our privilege to work for you – and with you – as we show the world how we do it here in Omaha.
Thank you for supporting the Greater Omaha Chamber as we increase business, investment and employment in the region, and thank you for visiting our website!
As always, if there is anything I can do to help your business, please let me know.
Regards,

Event Calendar
Which events will get you where you want to go?
Speaker Request
We welcome the opportunity to share our ideas and experiences with organizations working to make the region a vibrant place to do business, work and live.
Belong to the Chamber
Join the Greater Omaha Chamber today – and let us start working for and with you.
Together, we accomplish so much more than any one person or business can accomplish alone.