2020 Barometer
See how Omaha ranks against nine other cities
This is where you'll find the numbers behind Greater Omaha's success. All the data you need is here. The numbers speak for themselves – our steady economic growth makes Omaha one of the most favorable cities in the nation for your business.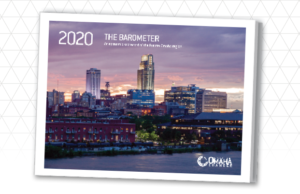 What's inside The 2020 Barometer?
The 2020 Barometer compares Greater Omaha with nine other metros to provide economic performance insights, such as:
Cost of doing business: Greater Omaha consistently posts lower business costs.
Infrastructure: A large, local transportation and logistics industry keeps supply chains connected.
Cost of living: People get more for much less; Greater Omaha's cost of living is 8% below the national average.
And more data covering economic growth, human capital, innovation, entrepreneurship, private capital.
MONTHLY ECONOMIC INDICATORS
GREATER OMAHA BUILDING PERMITS
Business Environment
From our strong business climate, to our first-class resources, we're proud to cultivate an environment ideally suited for companies wishing to start, grow or expand operations.
A Diverse Mix of Industries
Our steady economic growth is the envy of the nation.
Greater Omaha produces more than $50 billion in goods and services each year.
Outpaced the nation in economic growth for the past 6 years in:

Finance & Insurance: Increased 26.2% vs 7.1%
Transportation & Warehousing: 29.6% vs 19.0%
Health Care & Social Assistance: Increase 17.1% vs 16.2%

Our Information industry is booming with a 33% increase over the last five years9
We work hard to keep the business climate friendly and taxes moderate.
Our cost of doing business is 12 percent below the national average. 10
2020 Greater Omaha Major Employers
Fortune Thrives Here
We're proud of the fact that some of the world's most recognizable companies are based here. We're even more proud of the impact they're having around the nation – and the globe.
Transportation
A Key Transportation Hub
We're served by a ring of interstate highways, railroads, motor freight, air and river transportation.
Reach your destination in 2-3 days with easy access to I-80 and I-29.
Major Rail Centers

Burlington Northern Santa Fe
Canadian National Railway Company
Union Pacific Railroad
33 direct flights including San Francisco, Los Angeles, New York City and Washington, D.C. 18
Barge traffic can navigate the Missouri River 10 months of the year.
Workforce & Talent
Savvy, Sophisticated Talent.
If you're ready to ignite your career – if you're determined to make a mark instead of just making due – you'll find a place. Here, we embrace entrepreneurs, cultivate innovation and let imagination run free.
Demographics
Our region and people excel at exceeding expectations.
Population
Our population of 986,007 is characterized by steady growth. We've expanded 9 percent between 2010 and 2019, growing 3 percent more than the nation. 1
Race/Ethnicity
With a diverse cultural makeup, ethnic minorities comprise 13.6% of our population including a Hispanic populace of 10.3%. 2
Age
Our reputation as a vibrant, growing community attracts young and talented workers ready to ignite their career.
More than 35 percent of our population is 24 years of age or younger.
Median Age: 35.6 3
Income
Our low cost of living and competitive wages create a spending power of $56,718 –  15.8% above nation's ($48,980). 4
Sources
U.S. Census Bureau, Population Division, "Annual Estimates of the Resident Population: April 1, 2010 to July 1, 2019"
U.S. Census Bureau, 2014-2018 American Community Survey 5-Year Estimates, "Table DP05: Demographic and Housing Estimates"
U.S. Census Bureau, 2014-2018 American Community Survey 5-Year Estimates, "Table S0101: Age and Sex".
U.S. Bureau of Economic Analysis, "Real per capita personal income (Chained (2012) dollars)"
Department of Labor, Bureau of Labor Statistics, Local Area Unemployment Statistics
Department of Labor, Bureau of Labor Statistics, Current Population Survey
U.S. Department of Commerce, Bureau of Economic Analysis, Real GDP Per Capita (by metropolitan area)
U.S. Census Bureau, 2013-2018 American Community Survey 5-Year Estimates, "Table B15001: Sex by Age by Educational Attainment for the Population 18 Years and Over"
Eric Thompson, UNL, 2020 Barometer
Nebraska Coordination Commission for Postsecondary Education and Iowa College Aid, Fall 2018
S. Energy Administration, 2018 Retail Price of Electricity
Council for Community and Economic Research, 2019 Annual Average
Omaha Airport Authority