Invest in Prosper Omaha
Prosper Omaha is the latest funding program for the Greater Omaha Chamber Economic Development Partnership. The program has a tradition of focused, economic development activity that companies, foundations and individuals have been investing in for over 20 years. The Goal: Enhanced economic opportunity and a higher quality of life in the Greater Omaha region – not just for some but for all.
Launched in 2014, Prosper Omaha is driving growth of the region's strong, diverse economy by:
Continuing to increase business and jobs in the region, but with a more aggressive and focused effort
Taking a determined approach to building Omaha's worldwide brand and image
Improving the competitiveness of the Nebraska and Greater Omaha business climate
Creating a dynamic talent development strategy that satisfies a diverse employer base
Become a Prosper Omaha Investor
Your investment in the $23 million Prosper Omaha initiative allows the Partnership to execute a comprehensive economic development strategy focused on:
Implementing an intensive, focused business-growth regional economic development program ($12.5M)
Investing more targeted resources to enhance Greater Omaha's brand and image ($6M)
Taking strategic actions to improve the business climate in Nebraska and Greater Omaha ($2M)
Leading a collaborative talent development effort to grow, retain and attract a world-class workforce of the future ($2.5M)
Investment Levels:
Leadership ($100,000 – $500,000 annually)
Platinum ($50,000 – $99,000 annually)
Gold ($20,000 – $49,000 annually)
Silver ($10,000 – $19,000 annually)
Bronze ($5,000 – $9,000 annually)
Copper ($1,000 – $4,000 annually)
Investor Benefits Include:
Participation in quarterly investor meetings
Involvement in special economic development committees and advisory groups
Receipt of special updates, quarterly reports and on-going communications
Recognition on the Greater Omaha Chamber website and at select Chamber events
Prosper Omaha Investors
Accomplishing more. Together.
We wish to extend our sincere gratitude to the organizations and individuals whose generous financial commitments support Prosper Omaha, our region's future and the goal of economic opportunity – and a higher quality of life – for all.
Leadership Investors ($100,000 and above annually)
Anonymous
Blue Cross and Blue Shield of Nebraska
CHI Health
City of Omaha
Conagra Brands
Cox Communications / Cox Business / Cox Media
First National Bank
HDR
Iowa West Foundation
Kiewit Corporation
Mutual of Omaha
Omaha Development Foundation
Omaha Public Power District
Omaha World-Herald
Peter Kiewit Foundation
Union Pacific
University of Nebraska Medical Center
Valmont Industries
Wells Fargo
Platinum Investors ($50,000 – $99,000 annually)
Ayars & Ayars
Creighton University
First Data
Gallup
Husch Blackwell
Metropolitan Utilities District
Omaha Area Board of Realtors
TD Ameritrade
United Way of the Midlands
Gold Investors ($20,000 – $49,000 annually)
AIM
Back to the River
Bailey Lauerman
CenturyLink
CLAAS
Fraser Stryker
Green Plains Inc.
Hawkins Construction
Immanuel
Lamar Advertising
Lincoln Financial Group
McCarthy Capital
Metropolitan Entertainment and Convention Authority (MECA)
Methodist Health System
Metropolitan Community College
Mutual of Omaha Bank
Nebraska Medicine
Omaha Convention & Visitors Bureau
Papio Missouri River Natural Resources District
Paradigm Solutions
Seventy-Five North
Thompson H. Rogers
Tenaska
University of Nebraska
West Corporation
Silver Investors ($10,000 – $19,000 annually)
Aetna
Baird Holm
Bank of the West
Borsheim's
Bozell
C & A Industries
Children's Hospital & Medical Center
Council Bluffs Chamber of Commerce/Growth Alliance
CQuence Health Group
Creighton University Athletics
DLR Group
Farm Credit Services of America
Gavilon
Great Western Bank
Interpublic Group
Jordan Green Productions
Lamp Rynearson
LEO A DALY
LinkedIn
McGrath North
Moglia Family Foundation
Nebraska Title Company
Noddle Companies
PayPal
Physicians Mutual
SAC Federal Credit Union
Schemmer
Walter Scott, Jr.
The Scoular Company
SecretPenguin
Security National Bank
Travel & Transport
U.S. Bank
Waitt Company
Werner Enterprises
WoodmenLife
Bronze Investors ($5,000 – $9,000 annually)
ACCESSbank
AIT Worldwide Logistics
Altaba
American National Bank
Baer Foundation
Beardmore Chevrolet
Behlen Technology & Manufacturing
Black Hills Energy
BMO Harris Bank
BNSF Railroad Company
The Burlington Capital Group
Cargill
Cargo Zone
City of Bellevue
Cummins Central Power
Deloitte
E&A Consulting Group
Embassy Suites Omaha-Downtown/Old Market
Embassy Suites Omaha-La Vista
Essex Communities
First Westroads Bank
Golf Central Unlimited John Gottschalk Todd & Mary Heistand Foundation
HGM Associates
Home Instead Senior Care
IBEW 22
ImagineOmaha
InfoGroup
Investors Realty
J. Peter Ricketts
JEO Consulting
Koley Jessen
KPMG
Lincoln Partnership for Economic Development
Lockheed Martin
Lyman Richey
MAPA (Metropolitan Area Planning Agency)
Metropolitan Omaha Medical Society
National Electrical Contractors Association – Nebraska Chapter
Nebraska Department of Economic Development
Nebraska Furniture Mart
Nebraska Total Care
Northern Natural Gas
NorthMarq Capital
Northrop Grumman
Northwestern Mutual
NP Dodge
NRG Energy Center Omaha
Olmsted & Perry Consulting Engineers
Olsson Associates
Omaha Lancers
Omaha Marriott Downtown at the Capitol District
Omaha Steaks
OMNE Partners
OrthoNebraska
Performance Auto
Pinnacle Bank
Proxibid
R&R Realty Group
Riverfront Place
RSM
Seldin Company
Sheppard's Business Interiors
The Sherwood Foundation
SilverStone Group
University of Nebraska at Omaha
Waitt Outdoor
Watkins Concrete
Weitz Company
Weitz Investment Management
Copper Investors ($1,000 – $4,000 annually)
A-1 United Heating, Air Conditioning & Electrical
AAA Nebraska
Alvine & Associates
AOI Corporation
AON
Arbor Bank
Bank of Bennington
BCDM
Bellevue University
Bishop Business Equipment
BKD
Black Dirt Land Sales & Management
Bland & Associates
Booz Allen Hamilton
Builders Supply
Burke, Tim
BVH Architects
CBSHome Real Estate
Cella Quinn Investment Services
Centris Federal Credit Union
CFO Services
Charter Title & Escrow
Chophouse / 801 Restaurant Group / Pig and Finch
Christensen Lumber
City Glass Company
CRi
Colliers International
Commonwealth Electric
Creative Reservoir
D.A. Davidson and Company
DataShield Corporation
DMSi Software
The Durham Museum
Ear Specialists of Omaha
Emspace
Enterprise Bank
Equitable Bank
Ervin & Smith
First American Title Insurance Company – National Commercial Services Division
First Star Recycling
Five Points Bank
Foundation First Bank
Frankel Zacharia
Frontier Bank
GWR Wealth Management
Hayes & Associates
Hot Shops Art Center
Hyatt Place Omaha
INSPRO Insurance
JE Dunn Construction
Jet Linx Aviation
Kirkham Michael
Knuth, Bradley L.
Lockwood Development
Lovgren Marketing Group
The Lund Company
Lutz
Markel FirstComp
Max I Walker
Medical Solutions
Midwest Sound & Lighting
Midtown Crossing
Millard Lumber
Miller Electric
Mitchell & Associates
NMC
North Central Group
Novozymes
OBI Creative
Omaha Economic Development Corporation
Omaha Film Festival
Omaha Lancers
Omaha Storm Chasers
Pella Windows & Doors of Omaha & Lincoln
RDQLUS
Regal Awards
Results Business Advisors
Sanders, Rita
Scottish Rite Masonic Center
Scottish Rite Foundation of Omaha
Seim Johnson
Seline Family Foundation
Shamrock Development
Signature Electric
Stinson Leonard Street
Thiele Geotech
Thompson, Dreessen & Dorner
TitleCore National
UltraAir
UMB Bank
Union Bank & Trust Company
Unite Private Networks
United Republic Bank
Universal Information Services
Westwood Holdings Group
Partner Investors ($999 and less annually)
Barkdoll and VonAhsen
Bluestone Development
Building Owners and Managers Association — Omaha
College of St. Mary
Canary and Coal
DeBoer, Gail
Elevated SEO & Web Design
Farmers National Company
Kenneth Hahn Architects
The Lerner Company
Lingo Docs
MCL Construction
MOAA — Heartland of America Chapter
Nelson Murphy
Omaha Business Insurance Solutions
Operation Hope
Prudential
Phenomblue
State Farm – Sherman Willis
Surreal Media Lab
Woods & Aitken
PROSPER OMAHA 2.0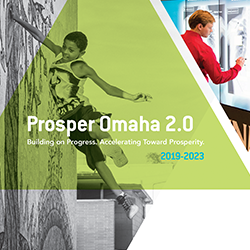 Building on Progress. Accelerating Toward Prosperity.
Prosper Omaha Brochure
Quarterly Reports
Scorecard