When Brent Fox moved from Seattle to Omaha in 2008, he saw a place with the potential for growth. At a time when the recession was at its worst nationally, Omaha maintained a solid market and continued to be a community worth raising a family in. After over a decade of being in business, Fox Flooring is now an Omaha staple that seeks to lift up its fellow community members.
When he was young, Fox was instilled with a strong work ethic by his mother. "My thing is," said Fox, "the best thing I can give back is time invested and show my children what it means to stay in something, stay devoted."
"Work hard, stay loyal. Good things do pay off."
Beginning immediately out of high school, Fox knew he had always wanted to own his own company. A self-described "hands-on guy," Fox was determined to build others who were integral in building his business.
Fox said, "when people do come to work for me, I don't want it to just be a job. I don't try to just hire people, I try to really hand pick them." While Fox still has positions to fill and specific jobs to sub-contract, he ultimately wants to train the right tradesmen in the technical trade of flooring design to pass along those skills to the next generation.
On a similar note, Fox's philosophy speaks to quality and integrity throughout a job. "Having good people skills is extremely important. I try to do my best to satisfy the customer," said Fox. "It's not always possible; people are unpredictable. But every time I go into a house, I try to make them feel comfortable and secure."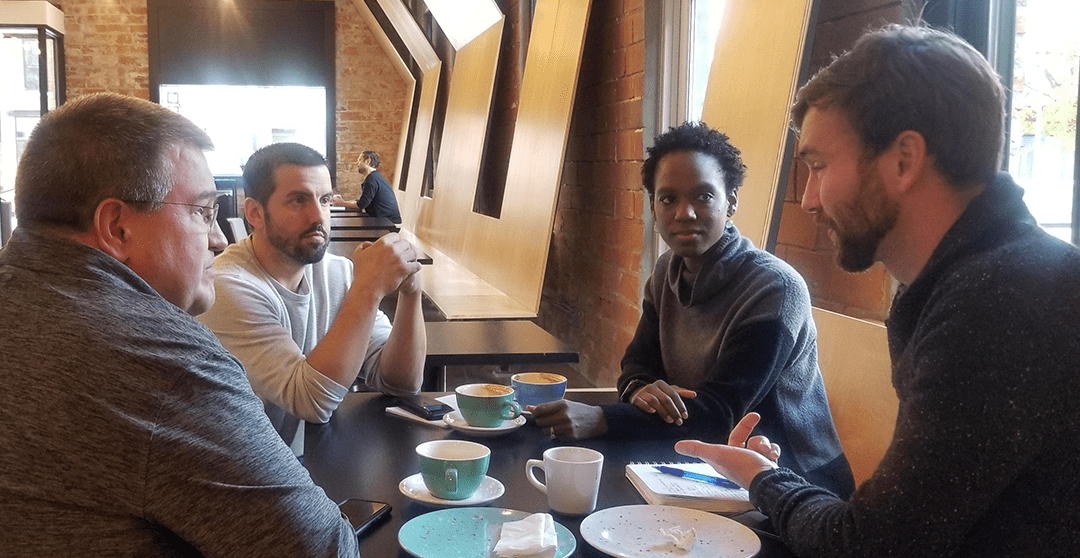 While building his business has been rewarding, Fox knew that he wanted to do something greater for the overall community. He thought,
"I'm trying to build in order to give back. That's what drew me to the REACH Program."
Starting in 2015, Fox began building relationships through the Greater Omaha Chamber's REACH Program, which is a 3,000+ group of businesses that seeks to bridge the gap between large and smaller businesses.
Fox, for example, enjoys the REACH Beyond Mentoring Program thanks, in part, to an individual who helped him while he was growing up. Raised by a single mother, Fox had a mentor he's still in communication with today after three decades and is grateful to have had him. "We stay connected, and he taught me a lot," said Fox. He taught me as far as thinking outside of the box." Now that he has reaped the benefits of having a mentor, Fox seeks to pass the message along to the next generation. "That's what I like to do, I like to challenge people," Fox said.
Fox still feels like a small company in the growing process, but REACH has allowed him to get to know his community and gain more exposure. With such a sea of people and businesses on the internet, he values the concept of meeting face to face and building those personal relationships. Now, he feels that he is, "not just a better installer, but a better business man," thanks to REACH and his childhood mentor.  
REACH Program
Ensuring our certified small and emerging businesses (SEBs) are ready to bid and capitalize on new projects – and reach their strategic goals.