Each year we select Business Excellence Award winners from nominations gathered from the community. These awards are our way of celebrating the incredible amount of excellence around us and awarding the truly deserving – those whose contributions elevate our community and make it a better place for everyone to do business, work and lives.
ACCESSbank
FNBO
Project Harmony Child Advocacy Center
Farm Credit Services of America
Monica Sempek Photography, LLC
Do Space
Hillcrest Health Services
North End Teleservices
Ronald McDonald House Charities in Omaha, Inc.
McCarthy Building Companies, Inc.
OneWorld Community Health Centers, Inc.
WoodmenLife
Bland & Associates, P.C.
Omaha Public Power District
Verdis Group
Honoring those in business for 25 to 150 years
2019 Small Business of the Year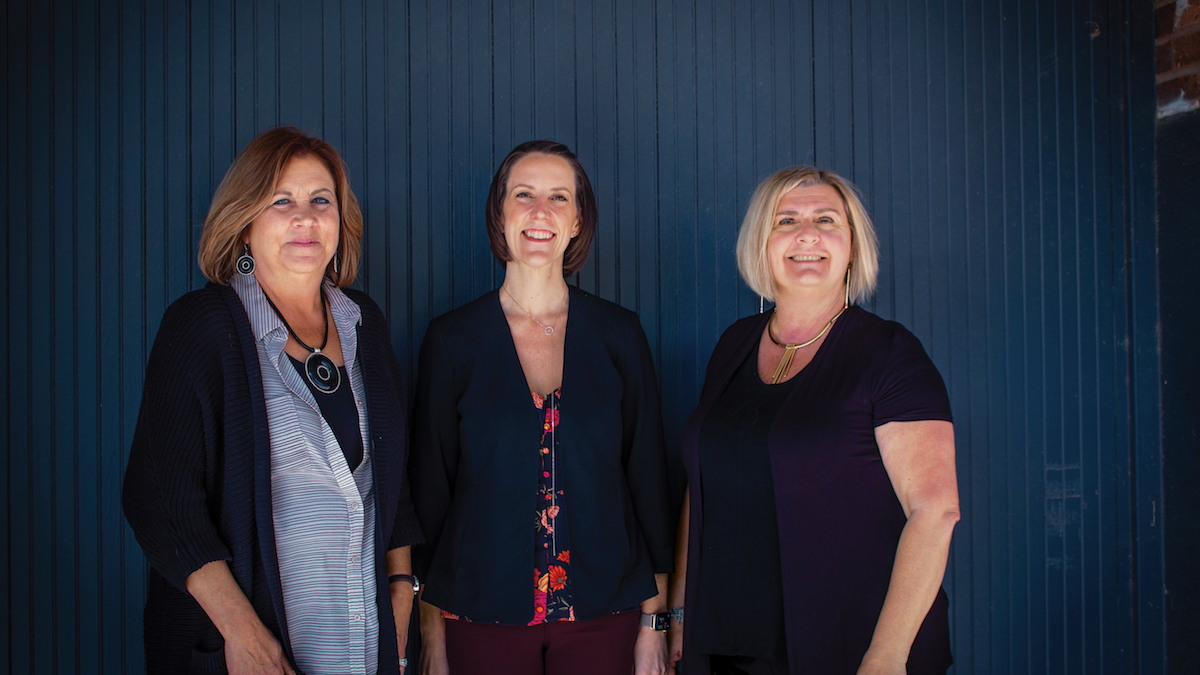 Bozell
"When it comes to culture, we believe you can't force it. We hire people who are inspired and who inspire and motivate others. And we allow them to bring their fun ideas to life. The rest takes care of itself."
Having been in the business for nearly a century, Bozell has seen it all. From humble beginnings in Omaha to a worldwide powerhouse and back, the company's legacy has come full circle.
Bozell has a long history of giving back. One of the firm's founders, Morris Jacobs, strongly believed in "paying rent for the space we occupy on this earth" by giving back in time and talents.
Every year, Bozell donates a significant portion of labor hours to nonprofit work. Their staff are encouraged to get involved with local organizations—nearly 30% of their staff serves on local nonprofit boards. In fact, the company was awarded a Corporate Citizenship Award from the Greater Omaha Chamber for their philanthropy efforts and were recently named Small Business of the Month.
Bozell's vision is to "empower those who aspire to change the world." The founders set this vision nearly a century ago, and it's what continues to motivate the company's leadership and staff.
The Sustained Excellence Award offers another level of distinction for those organizations that prove, time and again, that excellence is standard operating procedure. This award honors those who have received Business Excellence Awards in any category (innovation, leadership and/or philanthropy) for two or more consecutive years.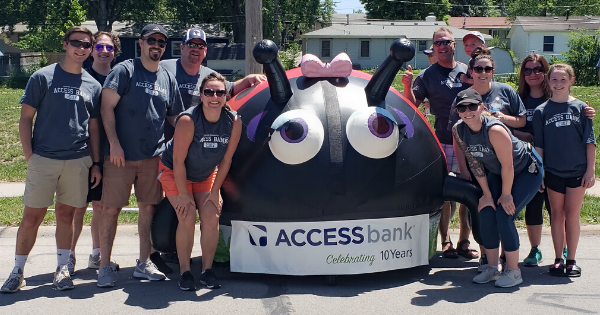 ACCESSbank
"We believe there are no shortcuts to quality and encourage employees to be thorough, timely and accurate in everything they do." 
Recognized for Excellence in Leadership (2018) and Excellence in Philanthropy (2017), ACCESSbank has made that attribute – excellence – a pillar of its "ACCESSway standards."
The tenth largest bank in the Omaha market, ACCESSbank prioritizes community stewardship and believes in developing leaders not "managers." For the past three years, it has committed over $200,000 in learning and development opportunities for its employees and leadership team.
CEO Pat Corrigan founded the bank at the start of the recession in 2007. Despite its rapid growth since then, ACCESSbank has stayed true to its original mission: "Community banking with a personalized, high-touch experience."
FNBO
"We constantly strive to be a force for good by doing the right thing for those who matter most – our customers, employees and our communities," says First National Bank's Alec Gorynski
First National Bank – awarded for Excellence in Philanthropy the last two years – understands that banks are intertwined in people's lives and play an integral role in a community's success.
In response to last spring's devastating flooding, First National Bank (FNBO) and the Nebraska Community Foundation established the Rebuild the Heartland Community Fund. FNB contributed $100,000 and matched an additional $150,000 in donations from individuals, families and corporations. So far, more than $837,000 has been raised in total – all of which is being deployed in flood-affected areas.
Earlier this year, FNB was named to Forbes annual "Best Banks in America" for the 8th time since 2012.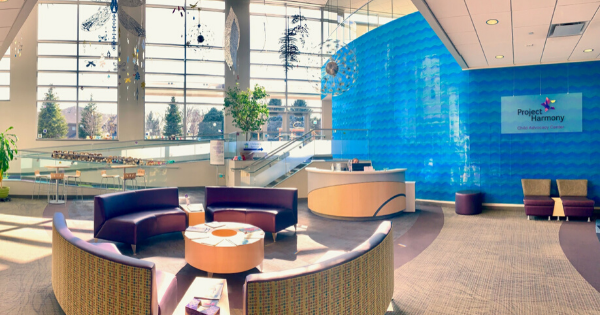 Project Harmony Child Advocacy Center
"As we look ahead, it's clear there will be continued growth and expansion. Not only will Project Harmony's reach increase, but so will the number of children who are able to use their voice without fear so healing can begin," says Project Harmony's Angela Roeber
Back-to-back Excellence in Innovation Award winner, Project Harmony Child Advocacy Center serves its mission by forging partnerships and coordinating care to help the victims of child abuse go from crisis to courage. In 2019, Project Harmony assisted more than 5,700 children from the Omaha metro and southwest Iowa through early intervention and response services.
One of the largest child advocacy centers in the country, Project Harmony has expanded advocacy and mental health services to children and families impacted by abuse and neglect. It also offers on-site caregiver support groups, provides accompaniment to court, and makes connections to community resources and informal support networks.
Organizations, small and large, with an others-focused philosophy of giving make a significant impact on Greater Omaha's health and well-being. Recognition goes to those who go above-and-beyond to improve individual lives and the broader life and vitality of our community.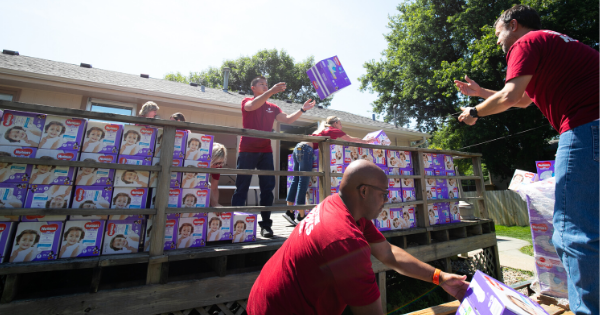 Farm Credit Services of America
At Farm Credit Services of America, they approach community stewardship by staying true to their "We Are Servants" statement.
"Our employees go above and beyond to foster an environment of community improvement and support," says Teresa Mardesen of Farm Credit Services of America (FCSAmerica).
FCSAmerica's outreach efforts touch everything from ag education and disaster relief to addressing hunger and nutrition. Every FCSAmerica employee is given 16 hours of annual paid volunteer time, which they can use individually or grouped with other employees.
In 2019, FCSAmerica worked with Nebraska Medicine, First National Bank and Bank of the West to form an Omaha-wide Corporate Social Responsibility Collaboration to share ideas, network and otherwise work together to increase Omaha companies' collective community impact. As of February 2020, 61 Omaha companies, including the Fortune 500s, were represented.
Monica Sempek Photography, LLC
"I am a firm believer that every business should give back to the community by sharing not only their talents but their time." – Monica Sempek, Monica Sempek Photography, LLC
Monica Sempek says giving back to the community is what her business – Monica Sempek Photography – is based upon. She uses her lens to tell the stories of those without a voice and bring awareness to the needs of the nonprofit community. Sempek has captured many "car blessings" for Chariots4Hope and donated time and images to Healing Embrace, Transformation Omaha, Grief's Journey and more.
A member of the Transformation Omaha and Metro Omaha Business Center Boards, Sempek also devotes time to mentoring and encouraging new small business owners, connecting them to resources and local networking groups. Sempek opened her own business in 2016 and expanded to a larger location three years later.
Creating something better is no easy process, but it's what true innovators live for, thinking beyond "the now" and "the norm" to improve their customers' lives. Those recognized for Excellence in Innovation embed this on-going quest for improvement into their cultures and push their bounds, every day, to elevate our community.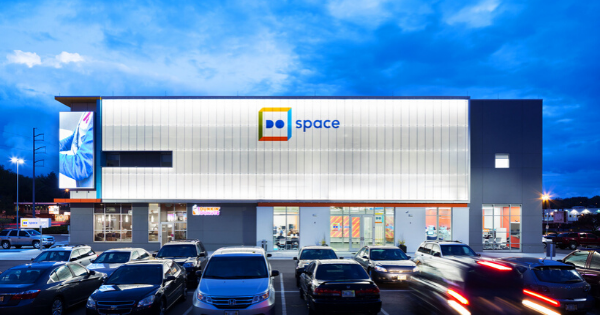 Do Space
"As the first community technology library in the United States, Do Space is influencing the shape of technology education on a local and national scale." – Anna Gadzinski, Do Space
Do Space is a one-of-a-kind community technology space, digital workshop, and innovation playground. It was designed to tackle the digital divide in Omaha, boost digital skills and drive innovation, creativity and invention in our region.
Last year, Do Space hit a number of major milestones, surpassing 700,000 visits to the building, 75,000 members and 25,000 volunteer hours worked. Since opening in 2015, it has hosted more than 3,000 free technology-focused educational programs and events for members of all ages and abilities.
Dedicated to ensuring that technology is available to everyone, Do Space is more than just a building – it's a transformative community technology movement.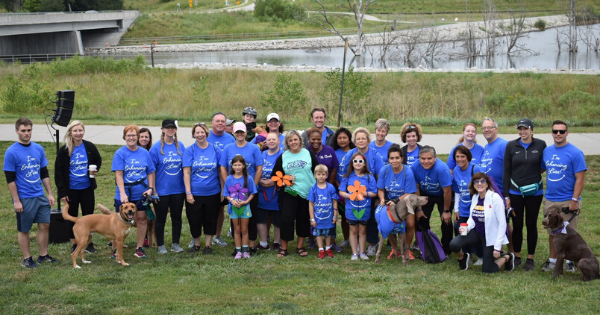 Hillcrest Health Services
National recognition is a by-product of the innovation mindset at Hillcrest Health Services.
The Cottages at Hillcrest Country Estates, named among U.S. News & World Report's "Best Nursing Homes," are the first and only freestanding nursing households in Omaha and a national model for culture change in long-term care facilities. Hillcrest has also received national recognition for its innovative work in Montessori-focused dementia care.
"Hillcrest is one of the first to integrate the Montessori philosophy into the daily lives of memory support residents. The concept has been adapted to engage individuals with dementia by stimulating the mind with activities and outings that use fine motor and cognitive skills, and build self-esteem," says Jim Janicki of Hillcrest Health Services.
In addition, Hillcrest, which recently earned innovation and quality awards from McKnight's Senior Living Magazine, has the only geriatric occupational therapy residency program in the country in partnership with Creighton University.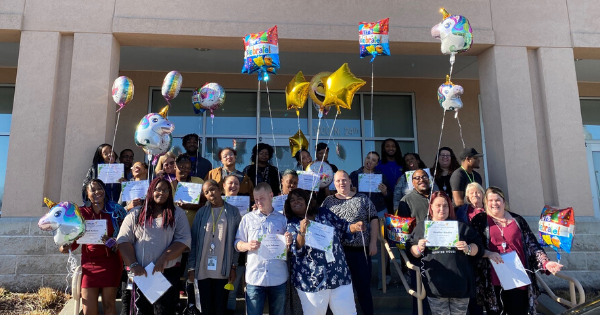 North End Teleservices
Innovation at North End Teleservices (NET) starts with location. While most call centers in Omaha are located in suburban areas, NET took the bold step of locating in the highest unemployment area, bringing jobs to the north Omaha community and allowing people to work where they live.
According to a University of Nebraska at Omaha economic impact study, NET provides over $25 million of economic impact to the local community – a figure expected to more than double in the next year.
"NET is innovating in business by answering unmet needs of our people and our customers, creating new services like student transportation contact centers for multiple school districts across the county," says NET's Doug Hibbeler.
Innovation at NET also comes in the form of its employee-focused free ride to and from work program, which is run through its transportation services department.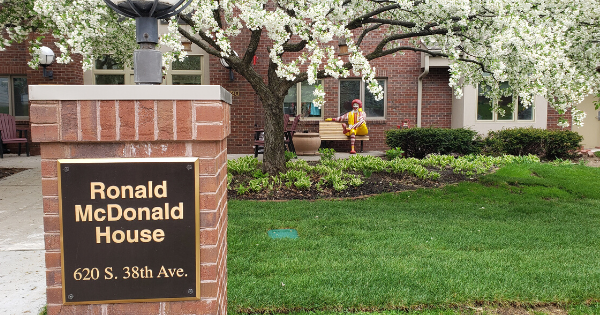 Ronald McDonald House Charities in Omaha, Inc.
Ronald McDonald House Charities (RMHC) in Omaha is committed to continuous innovative planning for the future, always seeking to improve in the area of supportive care. Nowhere is this more evident than in RMHC's construction of a large onsite treatment/infusion center – an innovation that will reduce the need for travel, as well as emotional anxiety and physical distress, for many of the patients staying at the House.
"This innovation is totally unique, having never been attempted before. No other RMHC in the world has this type of facility," says RMHC's Laurie Cope.
Throughout 2019, the percentage of pediatric patients staying at the House who were candidates for infusion therapies remained steady at 42 percent.
RMHC's novel approach also extends to caring for those who care for others. The nonprofit has implemented an innovative slate of full-time employee benefits, including unlimited paid vacation, the Infant at Work program and Flex Fridays.
Excellence in Leadership recognizes those organizations with a strong vision for the future; a devotion to collaboration, inclusivity and forward-thinking; and a dedication to elevating their employees and the communities they call home.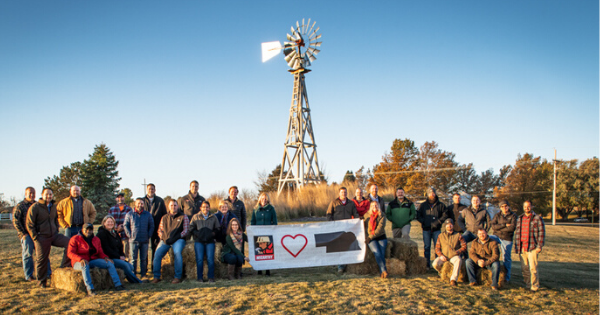 McCarthy Building Companies, Inc.
McCarthy Building Companies' Omaha employees do their part to grow and lead the next generation of construction professionals by stepping off the job site and into the classroom.
Employees and company leaders participate in Metropolitan Community College's Construction Advisory Committee to ensure highly relevant curriculum and program offerings. They also partner with Omaha's ACE Mentoring Program to plan the college's annual Construction Trades Day, an event that introduces hundreds of area high school students to Metro's resources and construction career opportunities.
"Our collective success depends on our ability to attract a skilled construction workforce who will build the next generation of hospitals, schools, research facilities, hotels, office buildings, and infrastructure that will shape the future of Nebraska and every region," says Amy Thompson of McCarthy Building Companies, a strong partner in the Greater Omaha Chamber's REACH program.
OneWorld Community Health Centers, Inc.
The leadership philosophy of OneWorld Community Health Centers calls on leaders and employees to build a culture of respect, kindness, learning and accountability.
"OneWorld's leaders create opportunities for all voices to be heard and valued in an environment of trust," says Kathy Broniecki, CEO of Envoy, Inc., who nominated OneWorld for the Excellence in Leadership Award.
OneWorld's leaders encourage diverse perspectives and support their employees with training, coaching and mentoring, inspiring curiosity, creativity and innovation. They continually seek new challenges, communicate openly and hold themselves and their employees accountable.
To implement change, OneWorld's leaders create a vision for achieving and exceeding expectations and share that vision with employees to build a strong network of support.
2020 marks the 50th anniversary of OneWorld, which began as the Indian-Chicano Health Center in 1970.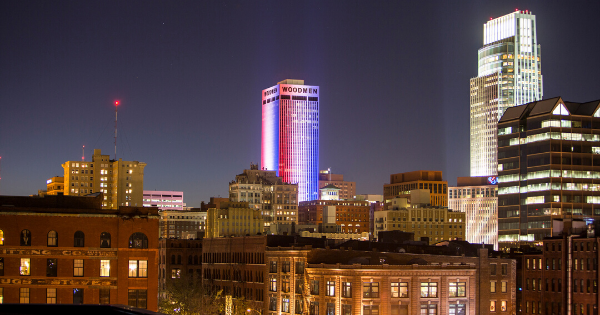 WoodmenLife
"WoodmenLife is committed to working with team members to make them better leaders." – Kerry Heinrich, WoodmenLife
WoodmenLife has a mindset of developing leaders and providing them with opportunities to grow. That includes offering training, providing resources for continued learning, and creating opportunities to advance within the company.
In 2019, 50 percent of home office leadership positions were filled internally. Throughout the company's history, the president & CEO, including current CEO Patrick Dees, has risen up through the organization. WoodmenLife's Transformational Leadership Program underscores its commitment to leadership development, producing stronger leaders with more engaged and productive teams.
Extending its leadership philosophy to the community, the organization also encourages associates to serve as leaders for area organizations. In Greater Omaha, 47 associates serve on boards for 57 organizations.
Excellence in Two Categories
Excellence in Two Categories winners exemplify excellence 2 – the result of operating with a holistic, high-bar mentality. Three companies are being honored, this year, for Excellence in both Leadership and Philanthropy.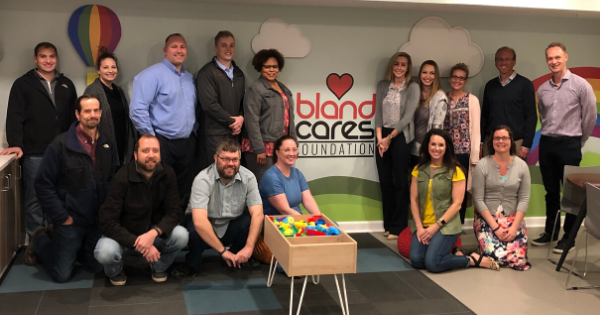 Bland & Associates, P.C.
At Bland & Associates, P.C., employees are encouraged to leverage their unique talents every day.
"We believe this mentality allows all employees to act as leaders," says Bland's Diana Busche.
All of Bland's employees take a personality assessment, which helps the firm harness its team's natural attributes, create an environment where individuality can thrive, and establish a cycle of leadership. The firm further cultivates leaders by sponsoring BLING, an internal leadership institute.
In addition to elevating its employees, Bland uplifts the community with its unique approach to philanthropy. In 2014, the firm created its own employee-run 501c(3) nonprofit, the Bland Cares Foundation. Backed by firm and employee contributions, the foundation supports numerous non-profits through monetary and in-kind giving.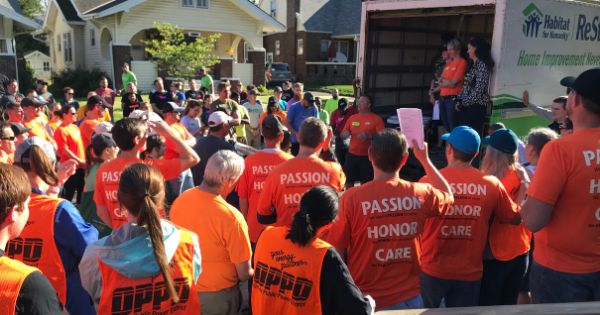 Omaha Public Power District
"The goal of OPPD leadership is to continually build the capability of our employees to lead the way we power the future." – Jamie Wagner, OPPD
Serving almost 850,000 people in 13 counties, publicly-owned Omaha Public Power District (OPPD) develops its workforce by stimulating a continuous improvement mindset and serving as a champion for change efforts.
The utility says it excels in delivery by clearly communicating expectations, promoting a bias for action with a clear focus on safety, and by holding its team accountable. In addition, employee advancement is encouraged through programs such as OPPD's Accelerated Leadership Development Program and EmPOWERedU.
One of OPPD's guiding principles – to be a trusted energy partner – extends to giving back in the communities it calls home. The utility flexes its philanthropic efforts in three primary community outreach lanes: education, basic needs, and community and environmental betterment.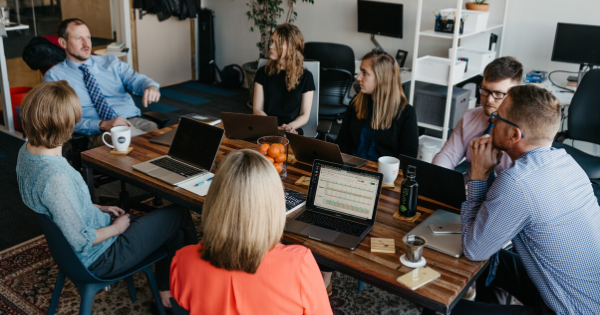 Verdis Group
"We know our people are the most critical ingredient to our success, which means we, as leaders, are extremely focused on hiring top talent and then doing everything we can to support their growth and development," says Verdis Group's Craig Moody.
Environmental consulting firm Verdis Group was started in 2009 out of a desire to be good stewards of the community and the planet.
The entire Verdis team is engaged in helping to shape the future of the company, and everyone takes ownership of achieving that vision. Moody says employees – empowered by a culture of authenticity, flexibility, and professional development support – are also encouraged to get involved in the community in diverse ways. That includes leading community conversations around sustainability issues, serving on the community boards and participating in community groups. In 2019, Verdis started Strive for Zero, volunteering time and expertise to help nonprofits improve their waste management systems.
Milestones matter, and anniversaries of 25, 50, 75, 100, 125 or 150 years in business mark the dedication of organizational stakeholders, as well as the commitment of customers to the business or nonprofit. 
25 Years
100 Black Men of Omaha, Inc.
Adams & Sullivan P.C., L.L.O.
Charter Hill Partners LLC
Elite Cheer Inc.
FASTSIGNS – M ST
First National Technology Solutions
First Nebraska Trust Company
Heartland Wood Floors Co.
Kinder Care
Mueller Robak LLC
Nebraska Beef, Ltd.
Omaha Prime
P & L Capital Corp.
Paul J. Strawhecker, Inc.
Performance Group, Inc.
Power Delivery Services, Inc.
Project Houseworks
QAT Global
Quality Brands of Omaha
Realcorp
Robert's Nursery, Landscapes & Lawns
States Resources Corp.
Sun Valley Landscaping
Sympateco, Inc.
TG's Complete Cleaning Service
The Wells Resource LLC
50 Years
Bailey Lauerman
Berkshire Hathaway Homestate Insurance Company
House of Mufflers & Brakes Total Car Care
Omaha Car Care
OneWorld Community Health Centers, Inc.
Phil Patterson, Inc.
Pink Grading, Inc.
Robert Hancock & Co.
Shared Service Systems, Inc.
Travel Faire, Inc.
75 Years
BerganKDV
Eakes Office Solutions
Nebraska Christian College
National Electrical Contractors Association, Nebraska Chapter
Saint Francis Ministries
SilverStone Group
Tritz Plumbing, Inc.
100 Years
3E | Electrical Engineering & Equipment Co.
Completely KIDS
Endicott Clay Products Company
Omaha Home for Boys
Robert W. Baird & Co.
125 Years
Aksarben Foundation
Omaha's Henry Doorly Zoo and Aquarium
RENZE
150 Years
Borsheims Fine Jewelry & Gifts
City of Papillion
Millard Public Schools
Many thanks to our generous sponsors.
This event is made possible by the generous contributions of several organizations. We appreciate their support.
Small Business Awards Sponsor

Media Partner

Excellence: Earned Not Given
Learn more about our annual Business Excellence Awards and how to nominate your company.