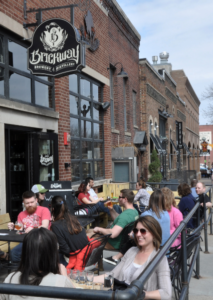 Zac Triemert and his team at Brickway Brewery and Distillery wear their passion on their sleeves – and "our passion is making great beer and stiff whisky, the kind you want to share," he said.
Open in the Old Market since December 2013, Brickway encompasses three distinct businesses: a taproom that sells beer, spirits and food; a production brewery; and a production distillery. It recently added 2,000 square feet to increase distilling operations.
"We are Omaha's first distillery since Prohibition," Triemert said. "In the back room, we're balancing art with mad science, palate with process, and instinct with chemistry. We're acting boldly and then laughing at ourselves a little when we do. No regrets. Drink in the moment."
Brickway's passion and expertise has earned the operation four international spirits medals in the last two years and two national beer medals.
Winning Insights from Our Winner:
Providing an Excellent Customer Experience
"On the production side, our key is to prevent out-of-stock situations for our distributors, assist their sales team to effectively represent our brand, and help the retailers (bars, restaurants, and grocery stores) understand the value of Brickway's beer and spirits," Triemert said. "In the tap room, customers need to be greeted within 60 seconds of walking in and communicated with clearly at all times. We work hard to make every guest feel valued and respected."
Empowering Employees and Creating a Culture in which They Can Grow and Succeed
"We work in an industry that is passion driven. We encourage all of our staff to try other beers and spirits and bring things they're inspired by back to work. As a team, we learn from each other to develop new flavors and new brands from our experiences," Triemert said. "Each team member takes pride in what we produce and, even more so, when they know that their knowledge and experience help to shape what we do. Our success is a full team effort."
Best Practice Tip
"Know why you are in business. For Brickway, it doesn't matter if you are celebrating, commiserating or commemorating, we will be there for you. That's why we do it."
The Value of Chamber Involvement
"When I first joined the Chamber, it felt like it was the right thing to do to support Omaha. At the time, I had the incorrect assumption that the Chamber would only care about getting more Fortune 500 companies to Omaha. What actually happened was – people at the Chamber started driving traffic to Brickway and having events at Brickway. Our membership has paid for itself many times over. I appreciate the partnership so much!"
Impacting the Community
"Once the Covid-19 pandemic became a reality for our community, we changed our business quickly to produce hand sanitizer. We began by first donating it to hospitals and first responders. Then, we offered it for free to the general public, up to 64 ounces," Triemert said. "For fun, we put the hand sanitizer on tap. For the first few weeks, the line was several blocks long. We still offer hand sanitizer on tap every Friday. Every other day of the week, guests can get an 8oz bottle for free."
He continued, "We have donated hand sanitizer to about every type of business that you can imagine; trucking companies, nursing homes, meat factories, law offices, hotels, auto dealerships, etc. To date we have produced over 10,000 gallons, which ironically is more than we have produced in actual spirits (vodka, whisky, etc). We are committed to producing hand sanitizer for our community through the end of 2020 and will continue beyond that if the need still exists."

Want to see your business featured here?
Eligibility for Small Business of the Month is just one benefit of being a Chamber member.