Leadership Omaha is one of the longest running professional development programs at the Greater Omaha Chamber. Since 1978, participants have immersed themselves in a 10-month learning experience focused on molding them into more effective community leaders.
This year, we're getting a look inside. We'll follow Matt Wenz, Head of Mulhall's Landscape, as he takes this 10-month journey.
Snow coated the pavement throughout the day as we spent our morning at the Village Empowerment Center, dispersed for lunch at local businesses, and wrapped up our day at WP Engine in the Ashton Building. The day offered an overview of economic development in Omaha, focusing on North Omaha, South Omaha, and Downtown Omaha.
Willie Barney, Founder and President of the Empowerment Network, kicked off the day by providing us with an overview of the various services offered at the Village Empowerment Center. He walked us through how the organization started with a group of concerned community members with a common goal, forging ahead with the group they had, refusing to wait for everyone. Today, that small group of concerned community members has grown into a nationally recognized network that is strengthening our community and reversing historical decisions that have left broad cross-sections of our community disenfranchised.
We then had the privilege of hearing from Dr. Cheryl Ingram, Nancy Williams, and Candice Price about their experiences as business owners. Each of them spoke about the joys, but also the struggles, of being a business owner, specifically the additional pressure and adversity faced as minority business owners.
The rest of the day was filled with learning about many exciting projects and developments in Omaha's future: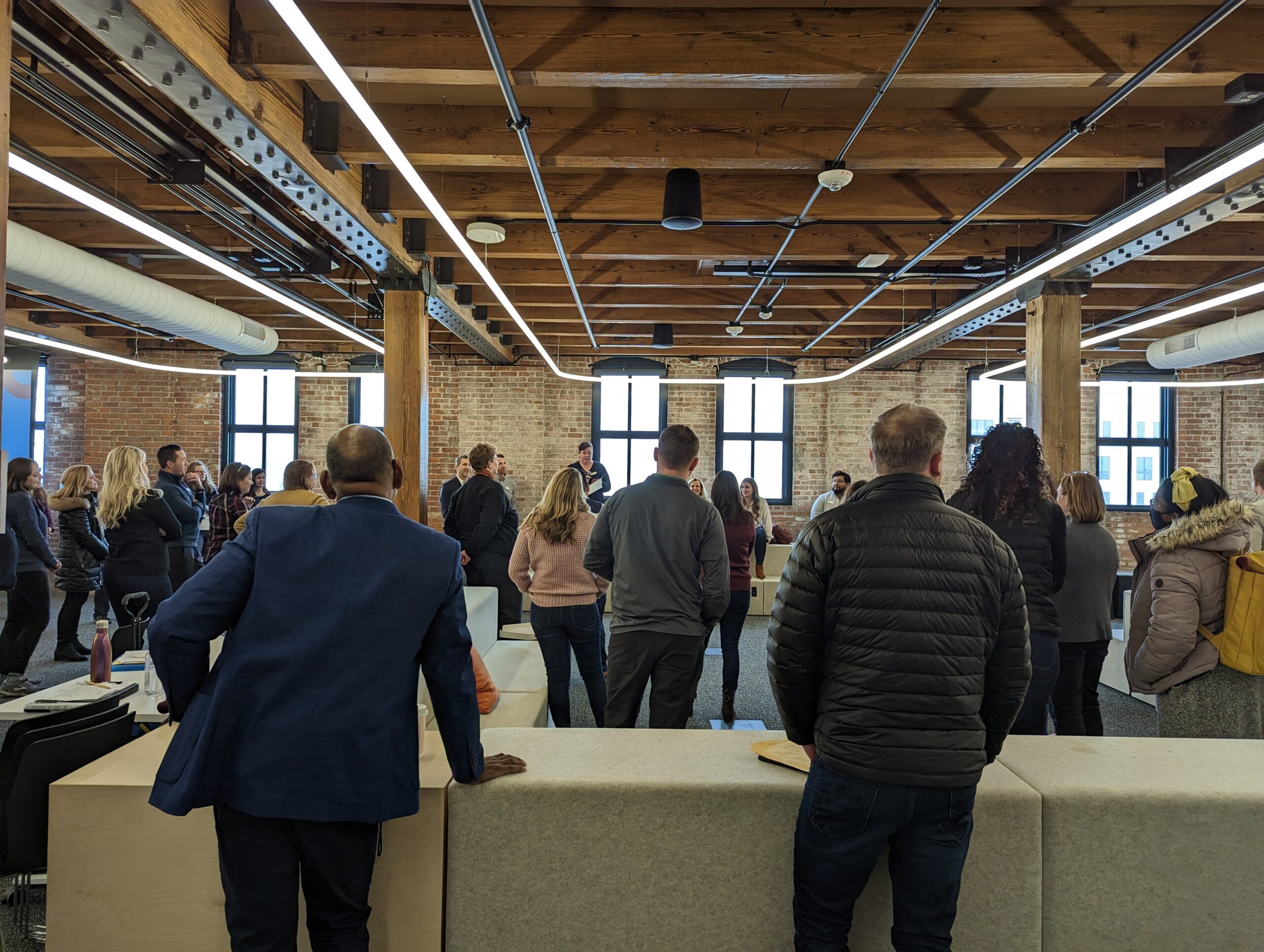 The day left me excited and optimistic for Omaha's future, and equally a sense of responsibility and the challenge to be an active part of helping create the city we want to live in. During lunch, we split into groups of seven and went out to local restaurants for lunch. Four of the seven groups all went to Ahmad's, where Ahmad happened to be working alone. Anna recognized an opportunity to step up and she was quickly pouring water glasses for the group. She was then joined by Sarah and many more as a small group of LO45 members worked alongside Ahmad to cook, plate, and serve the group, and even another table of complete strangers. It is surely a lunch that our group will remember forever and a true testament to the power of one person, Anna, leading the way to create a community that we are proud to call home.
Willie Barney left us with the message of "It's Possible," which is the best way to summarize the day. With a small group of committed individuals, aligned in vision and acting with intention, anything is possible.
We began our seminar with a warm welcome to QLI's campus. For many of us, it was our first time visiting. The opening session was hosted by Inclusive Communities, exploring the diversity of our network as well as the role implicit bias has had in shaping our network. The introspective activity was a reflective start to a day diving deeper into inclusivity and intentionality, calling us to take a candid look into our own lives, the people we spend time with, where are we in our comfort zones, and ask where our fears are holding us back from learning and growth.
Next, we had the privilege to hear the lived experiences of different members of the QLI community. Each story was unique, but the common thread was that of vulnerability, intentionality, and true partnership. There was not a dry eye in the house hearing these testimonies. It is hard to place, but there was a beautiful aura that surrounded us during our morning at QLI. Our tour guides mentioned that life is just different inside the gates, and it was a true testament to the power of intentionality, where people are encouraged to bring their best selves into an incredible environment of healing.
In the afternoon we ventured over to Tri Faith Initiative, where a mosque, synagogue, and church all sit on the same campus. After a quick game of ultimate rock paper scissors, we were led through an overview of the religious landscape of the US prior to taking a deeper dive into Islam with a tour from the Imam.
I believe when you experience something truly special, there are no words that can touch the emotional impact the experience had on oneself. It is hard to summarize the day in words, to find a quote that represents a piece of the day's experience, or a picture that can convey the emotion – they simply just don't do the day justice. For a small snippet into our day, here is a look into one of many touching stories that create that special aura at QLI.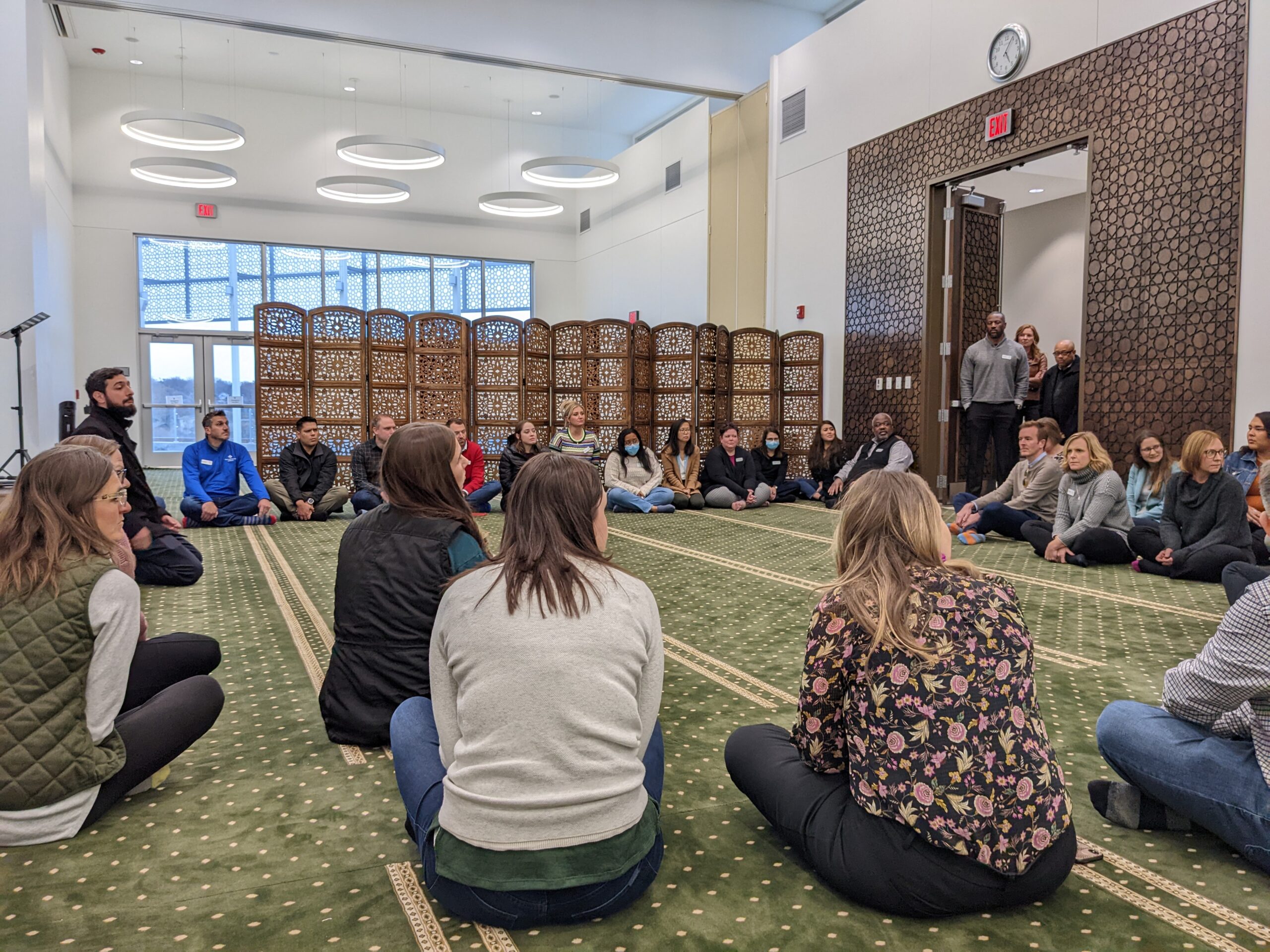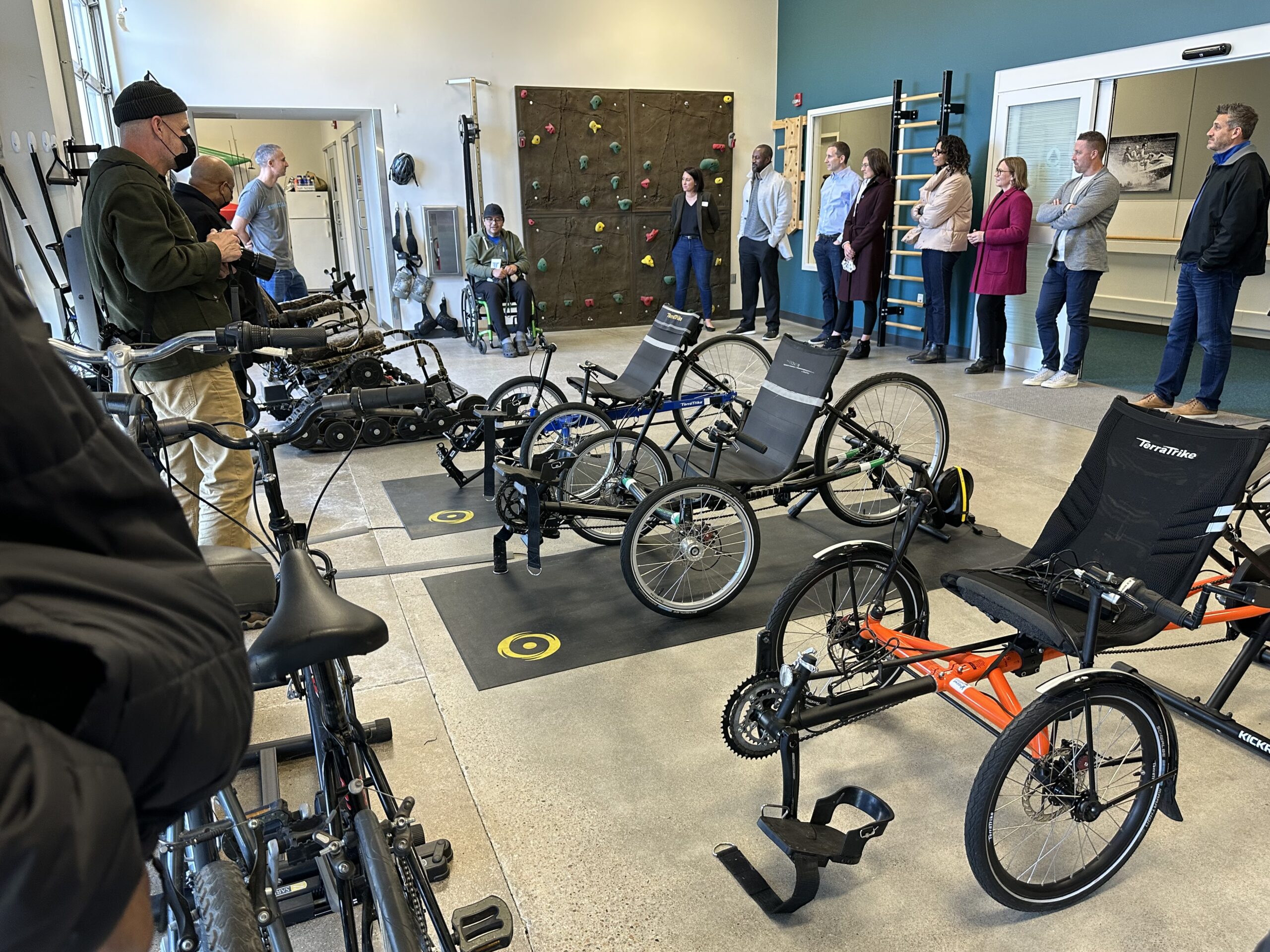 It was a powerful seminar visiting organizations born out of concerned community members and a commitment to make a difference. For myself, the day fueled a series of internal reflections: why is diversity valuable; for whom are we creating more accessible and inclusive environment; what changes, both mentally and tangibly, are necessary to enact our visions for an inclusive community; and where in my life can I be challenged and criticized to learn and grow?
When it comes down to it, my biggest takeaway is continuing to ask myself: how am I living my life leading with intentionality and vulnerability.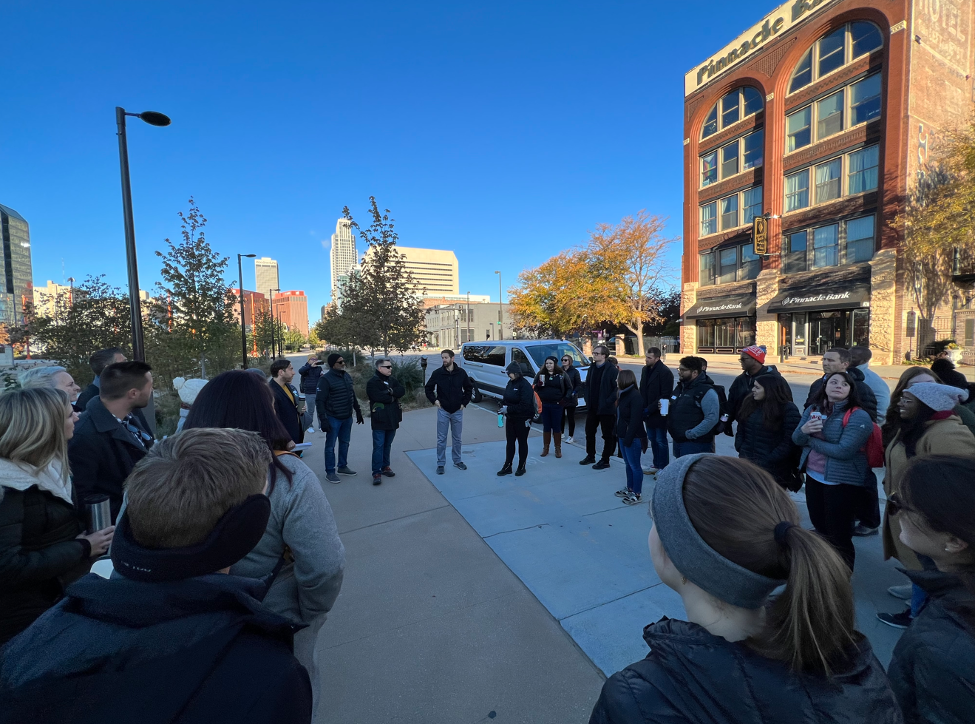 The brisk October air greeted us as we waited for the ORBT bus like kids awaiting a school bus. All bundled up, the entire group headed east to Downtown. For many of us, this was our first ORBT ride and was a welcomed new experience. Riding the bus allowed us the freedom to have conversations, and to watch as the built environment transformed around us on our journey. We disembarked on 10th and Douglas, strolled through the Gene Leahy Mall and made our way to KANEKO where we spent the morning learning about arts, culture, and creative spacemaking!
When we think of spacemaking within our community, many questions come to mind. What do we want out of our city? What do we need to feel culturally enhanced and whole? How are we creating space for more voices, new spaces, and new perspectives? What does inclusion look like when everyone has a different experience in a space? Our lineup of speakers offered insights into these questions, but we were again left with more questions than answers. Questions that prompted the sharing of our unique experiences with our neighbors, and listening and learning from their experiences. It also left us with a desire to try and find how to utilize our diverse perspectives to grow and amplify the voices of others.
After a morning of hearing from various creatives in our community, we ate some lunch, enjoyed the art around KANEKO, and took a quick tour of the Omaha Mobile Stage. Next, we embarked on a community tour of North Omaha, stopping at the Union for Contemporary Art before heading to South Omaha. As we traveled the streets as tourists in our own backyard, we learned more about Omaha's history, heard stories, and got snapshots of rich culture sprinkled throughout our city. With a new eye for creative spacemaking, murals were brighter, business fronts livelier and history richer. Each of us leaving with a new or renewed appreciation for the various spaces in our city and a list of new restaurants and businesses to try.
As I reflect on the seminar and creative spacemaking in our community, one section of Richard Florida's "Rise of the Creative Class" stands out:
More and more businesses understand that ethos and are making the adaptations necessary to attract and retain creative class employees—everything from relaxed dress codes, flexible schedules, and new work rules in the office to hiring recruiters who throw Frisbees. Most civic leaders, however, have failed to understand that what is true for corporations is also true for cities and regions: Places that succeed in attracting and retaining creative class people prosper; those that fail don't.
September
Opening Retreat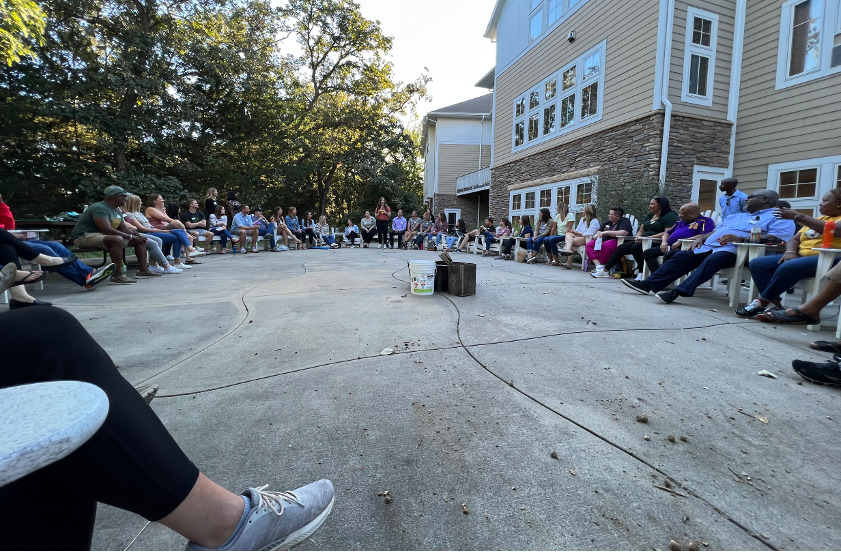 The two-day opening retreat absolutely flew by, and a part of me felt like I was a kid back at summer camp. There was the initial excitement and nervousness as the retreat began, and everyone started getting to know each other.
But this retreat carried a different tone than other weekend retreats or networking events. There was an authenticity and openness to each and every conversation. Through our introductions, nighttime skits, and discussions throughout the day, everyone was truly leaning into the experience, and strangers started to become friends. As the retreat progressed, the normal walls and barriers we as humans tend to construct were lowered, creating an amazing space for sharing, creativity, and authenticity.
Day two was all about discovery of self and intimate connection. We learned about our thinking preferences, talked about Omaha today and tomorrow, and our small group pairings were revealed. 
Our small groups – mere acquaintances just hours before – became tight-knit little communities as we shared six-minute life stories, with details normally reserved for those closest to us with years of trust. The activities and exercises progressed, and we continued to learn more about each other and our community. Ultimately, I left the retreat excited and eager for the journey ahead.
Now, reflecting on the opening retreat, I keep coming back to two things: vulnerability and questions.
 Vulnerability, a la Brené Brown in her TED talk, The Power of Vulnerability. Vulnerability as a necessary means to connection, belonging, and joy. This retreat was such a beautiful experience of complete strangers electing to be a part of something more – tied together by a shared passion we have yet to discover and an openness to journey as a group to see where the path leads.
And questions:
What will the next 10 months hold?
What does the future of Omaha look like?
What impact can I have on my community?
Where are my talents and interests best utilized?
How can I learn from others along this journey?
Will it all be worth it?
The retreat provided more questions than answers. And perhaps that's the point: sitting in the discomfort, uncertainty, and imperfection, and being okay with it. If the answers were easy, societal problems and inequity wouldn't exist, and we certainly wouldn't need programs like Leadership Omaha to bring together diverse cross-sections of our community to learn more and discuss them.
So at the onset of Class 45's journey, I have in the forefront of my mind an excerpt from Letters to a Young Poet, by Rainer Maria Rilke:
"…I would like to beg you, dear Sir, as well as I can, to have patience with everything unresolved in your heart and to try to love the questions themselves as if they were locked rooms or books written in a very foreign language. Don't search for the answers, which could not be given to you now, because you would not be able to live them. And the point is, to live everything. Live the questions now. Perhaps then, someday far in the future, you will gradually, without even noticing it, live your way into the answer."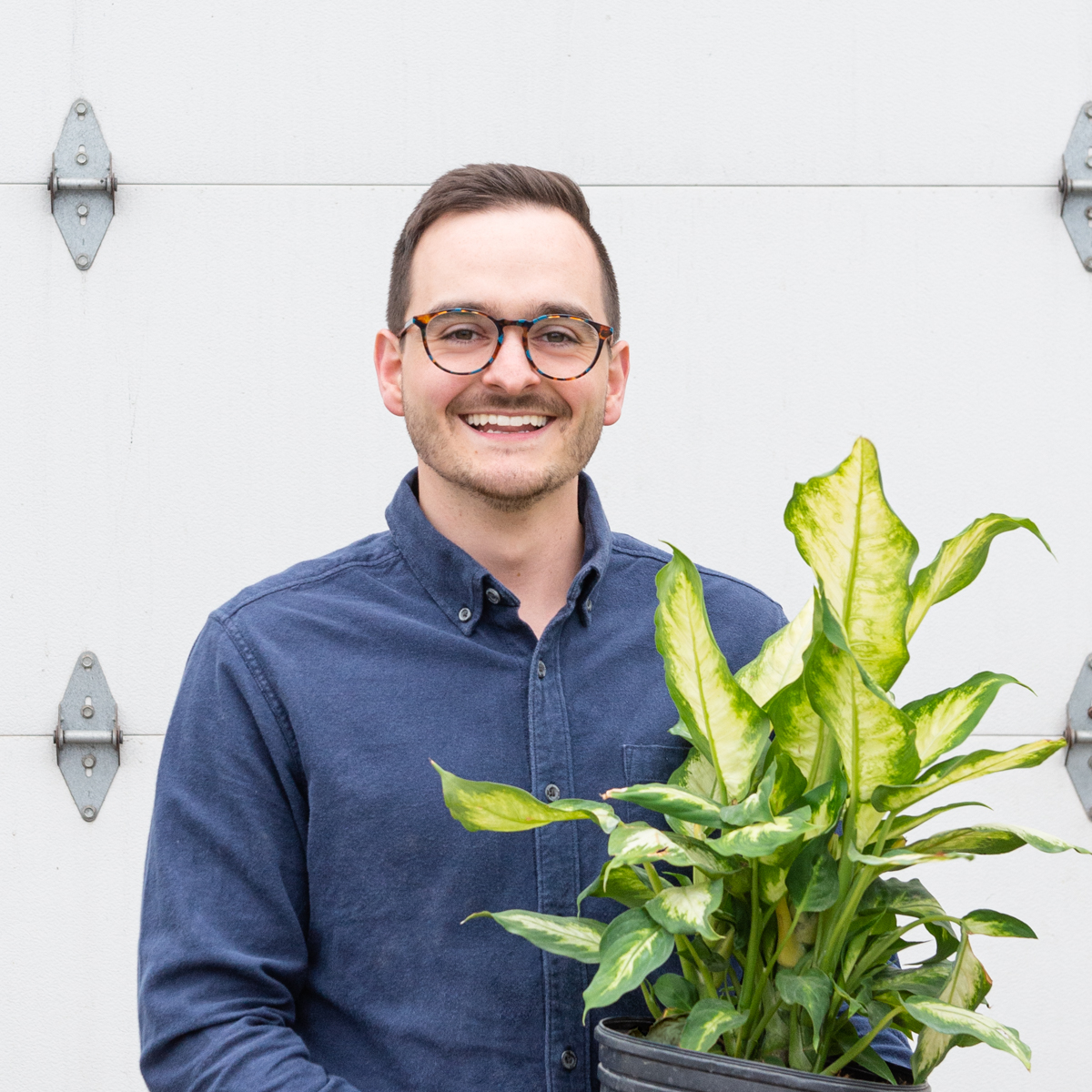 Matt has a natural ability to bring people together toward a common purpose. In 2021, after leaving the world of public accounting, Matt joined the Mulhall's team as a Controller and quickly discovered a new-found passion for beautiful landscapes and the work involved to create and maintain them. Now, as Head of Mulhall's Landscape, he's able to use his business background, a love for collaboration, and his appreciation for the natural world to amplify the impact of the Mulhall's Landscape team here in Omaha and the surrounding community. Matt and his wife Annie love spending time with family and friends, being outside and exploring the Omaha community.
Be the leader you know you can be.
Leadership Omaha gives community leaders a chance to shine. If you have a vision for the future of Greater Omaha, then this is the program for you.