You are Omaha's Future.
Deepen your connection to the Omaha community while you explore your own values and priorities as a leader. Leadership Omaha is a 10-month program that creates awareness of our community's challenges and motivates you to define your personal commitment to a lasting impact.
We launched Leadership Omaha in 1978 to develop effective leaders who will strengthen and transform the community. A selection committee of program alumni and Chamber board members ensures that each class of 50 participants reflects the diversity of the community-at-large.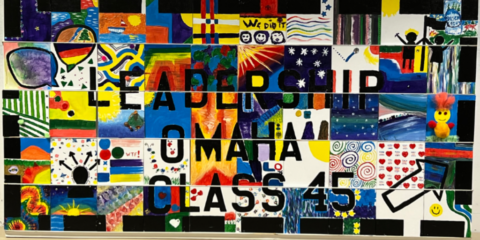 Leadership Omaha is one of the longest running professional development programs at the Greater Omaha Chamber. Since 1978, participants have immersed themselves in a 10-month learning experience focused on molding them into more effective community leaders. This year,... read more
What to Expect and How to Apply.
Leadership Omaha is a 10-month program that creates awareness of our community's challenges and motivates you to define your personal commitment to a lasting impact. The curriculum focuses on community trusteeship, community awareness and leadership styles.
The application period for Class 46 is April 3, 2023 through May 8, 2023.
Open to participants who live or work in the Greater Omaha area
Program tuition: $2,500
Tuition assistance is available – the application includes space to apply for scholarships
Sponsoring company or organization must be a member of the Greater Omaha Chamber
Seminars are 8:00 a.m. – 5 p.m. (with the exception of the opening retreat) An optional reception follows each seminar.
Curriculum focuses on:
Community trusteeship
Leadership styles
Community awareness
Class 46 Schedule
Program participants must attend 80 percent of seminars to graduate. The Opening Retreat is mandatory.
| | |
| --- | --- |
| Day/Time | Topic |
| Aug. 17, 2023 | 4 – 6 p.m. | Orientation & Reception |
| Sep. 10, 4:30 p.m. to noon, Sep. 12 | Mandatory Opening Retreat at Carol Joy Holling Conference & Retreat Center |
| Oct. 17 | 8 a.m. – 5 p.m. | City Environment |
| Nov. 16 | 8 a.m. – 5 p.m. | Inclusivity |
| Dec. 14 | 8 a.m. – 5 p.m. | Economic Development |
| Jan. 18, 2024 | 8 a.m. – 5 p.m. | Health & Human Services |
| Feb. 15 | 8 a.m. – 5 p.m. | Education |
| Mar. 21 | 8 a.m. – 5 p.m. | Government |
| Apr. 18 | 8 a.m. – 5 p.m. | Justice |
| May 16 | 8 a.m. – 5 p.m. | We Don't Coast |
| Jun. 6 | 8 a.m. – 4 p.m. | Closing Seminar |
| Jun. 6 | 4:30 – 6:30 p.m. | Graduation & Reception |
In addition to monthly seminars a Small Group activity is a core part of the program. Groups select, develop and execute a project for the benefit of the Omaha community.
The application requires significant time and effort. After completing the first page, you may save and continue your work before submitting.
Online form must be completed for application to be considered.
To prepare for the application process, you can download this Application Copy. This Application Copy will not be accepted as an application submission. You must fill out the online form.
Your direct Manager and CEO (or local equivalent) must support your application to Leadership Omaha. Contact information is required and both your manager and CEO will be contacted. 
One community reference is required.
Eighty percent attendance at Leadership Omaha Seminars is required. (The Opening Retreat is mandatory)

View Schedule for seminar dates.

Tuition assistance is available. There is space in the application to request.
Only one representative per business is permitted in a Leadership Omaha class. (Multiple from a single organization may apply.)
If your sponsoring company is not a current Chamber member, membership will be required if you are selected for Class 46.
All applicants will be notified of selection status in mid-June.
Communication
To provide opportunities for communication among emerging and established leaders
Awareness
To develop participant awareness of the Greater Omaha community, its problems, challenges and opportunities
Leadership
To explore the aspects of leadership and help participants identify and enhance their own leadership styles with an emphasis on the community perspective
Motivation
To create an environment in which participants are motivated to develop a sense of community trusteeship and encouraged to assume leadership roles in community affairs
Leadership Omaha Alumni Association
Donations to the Leadership Omaha Alumni Association are used to host alumni events and to help fund LOAA scholarship offerings.
Graduates of Leadership Omaha, and similar programs from other communities, are eligible to be part of the Leadership Omaha Alumni Association (LOAA). LOAA facilitates connections among its members and provides information about current community issues and needs, all with the goal of establishing, promoting and fostering leadership in Greater Omaha.
We want to highlight the impact of LO grads. Let us know what great things you (or your classmates) are up to! We're interested in your community involvement, professional successes and personal stories. Help us celebrate leadership in our community.
The LOAA Committee encourages the ongoing development of community leaders by providing engaging opportunities for alumni interaction and education.
Members:
Nicole Bianchi, Bravium Human Development (LO 33)
Amy Cherko, Olsson (LO 40)
Andie Gordman, Silverstone Group (LO 38)
Cliff McEvoy, Bellevue University (LO 38)
Parker McKenna, Union Pacific (LO 40)
Sean Olson, Sonburst Communications (LO 29)
Gabe Romero, Cordova Solutions (LO 29)
Stuart Shell, Branch Pattern (LO 32)
Jason Tiedtke, American National Bank (LO 32)
LOAA Scholarship Offerings
The Ann Goldstein Outstanding Young Leader Award
This awards is a book scholarship awarded to students who have lived in public housing during their high school years. Since 1988, 41 students have received over $50,000 in scholarships to assist with college book purchases.
Goldstein Award Chair: Tracy Mitchell, Assistant Principal – Marrs Middle School, Omaha Public Schools (Class 25)
The Lynda Shafer Inclusivity Scholarship
This award was created by Leadership Omaha Class 31. It provides tuition assistance to Leadership Omaha to applicants from diverse backgrounds who demonstrate a financial need. Requests for tuition assistance can be made on the Leadership Omaha application.
Alexander Cayetano
He/They
Senior Director, Leadership Development | Greater Omaha Chamber
808 Conagra Dr. Suite 400 | Omaha NE | 68102
402-978-7928 (office)
acayetano@omahachamber.org