When Bill Gates was asked to present at the G20 Summit in 2011, he said something timeless: "I believe innovation is the most powerful force for change in the world. People who are pessimistic about the future tend to extrapolate from the present in a straight line. But innovation fundamentally shifts the trajectory of development."
For innovators, new developments are no problem; and, Greater Omaha is a springboard for good ideas.
Here, some of the region's most robust organizations have ignored traditional models and forged new paths, undeterred by failure, uninterested in complacency, continually striving for excellence to improve their customer's and employee's lives.
Their commitment means new opportunities for all.
Consider The Bike Union and Coffee, for example. A 2019 Business Excellence Award winner in Innovation, the organization takes a unique approach to workforce development. One of Omaha's first social enterprises, this combination bicycle shop and coffeehouse provides jobs to young adults impacted by the foster care system – a group that typically has trouble finding and retaining employment.
"We are teaching individuals how to be good employees. More specifically, we are teaching individuals who have had difficulty securing or retaining employment how to be good employees," says founder Miah Sommer.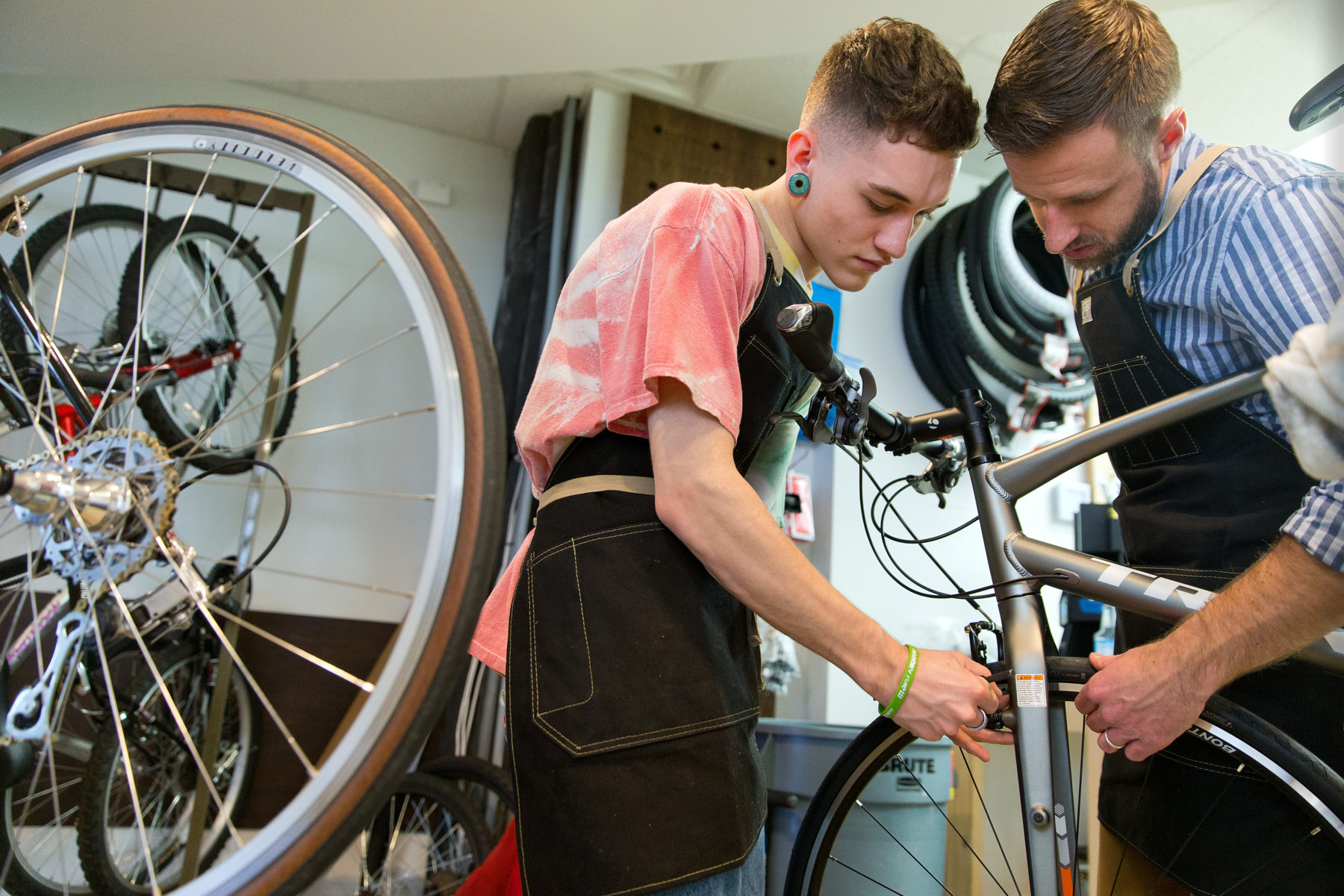 The Bike Union team devised an incentive-based pay system to reinforce good work habits and cultivate those solid employees. Each new hire can earn three pay raises in their first six-weeks if there are no disciplinary problems. They can also slide back a pay-level if there are.
"This has proven to be an effective way to incentivize our program participants as well as give our rules the teeth they need to be enforceable," Sommer says. "In fact, because we had never seen a precedent on this system, we needed to consult a labor lawyer to verify its legality."
Like The Bike Union, Home Instead Senior Care is harnessing the power of innovation to change the way it meets the public's needs. The company recently announced a partnership with GrandPad®, the first tablet-based solution designed exclusively for seniors. Potential benefits include better-integrated care solutions, interactive remote care and increased connectivity for seniors, which can reduce isolation and loneliness.
The Home Instead teams says, in the last 25 years, it's experienced many successes and some failures when it comes to innovation. Company founder Paul Hogan says,
"If you're not failing, you're not trying hard enough."
"We must increase our innovation capacity to capture trends, take advantage of emerging technologies, re-energize our manufacturing sector, provide opportunities to the disconnected, and accelerate the pace at which we grow our businesses," says Rebecca Bagley, contributing writer, Forbes, in "The 10 Traits of Great Innovators."
Those "opportunities" might manifest in technology applications, workforce efficiencies, new project-management functionalities and more.
At Lindsay Corporation, winner of a 2019 Business Excellence Award in innovation, organizational leaders say team members embrace the idea of "having our customers in our DNA" – and use this attitude to introduce industry-leading products, services and technologies that help customers succeed.
Recent examples include the award-winning FieldNET Advisor, a revolutionary irrigation management solution; and Light Guard Pulse, which provides remote, 24/7 monitoring and control of streetlights and copper-theft detection.
"Customer-first Innovation is one of four core behaviors, defining Lindsay's culture," says Lindsay's Maureen Graziano.
While changing the establishment by introducing something better is no easy process, it's one more way Greater Omaha's organizations are inventing the future.
Business Excellence Awards
Make plans to surround yourself with excellence as we celebrate our slate of winners and amplify their stories.