Can you think of an issue that has had massive amounts of resources (money, time and energy) poured into it, but yet it persists? It's easy to think that, if we make enough resources available, an issue will magically disappear. But, it's not enough to have resources available. The resources need to reach the people that need them at the time that they need them.
As business leaders, you focus on giving your employees the tools and equipment they need to bring their best selves to work. But, what about the days when I am my worst self, my meh self or my short-deep-breath-I'm-ok self? I still need to go to work on those days, don't I?
Supporting Employees Through Personal Challenges
Sometimes, life happens at work. These are those moments when we are not fully present—either physically or mentally. Who does an employee turn to in these moments?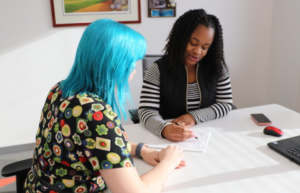 Some employees may be fortunate enough to have someone in their life on which they can count for support. However, it's likely that many employees don't possess the financial means or personal support network to address all of life's challenges—especially the most complex personal problems.
The Greater Omaha Worklab (GrOW) program is a workplace benefit offered by the Greater Omaha Chamber. It sits at the intersection between the at-work person and the at-home person. At GrOW, we purposely ignore those distinctions and focus on the whole person.
On-Site, Unlimited One-on-One Support
GrOW's service centers on our team of workplace Navigators. They are available, on-site and on-demand, to employees at our partner companies. Navigators meet your employees where they are, not just mentally and emotionally. We go one step further to meet them where they spend most of their time: at work.
A Navigator is there to form a relationship with each employee and ask them simple questions. You know, the kind that we so often forget to ask or don't ask intentionally, like "How are you?" and "No, really, how are you?" The most frequent response to that question demonstrates its significance. More often than not, we hear, "It has been so long since someone asked me that and I felt like they meant it."
Our Navigators create space—that is safe and confidential, familiar and non-judgmental—for an employee to talk. We hold no power over their pay or their position. We foster a relationship with each employee and create a bridge for them back to the community.
Our team connects employees with relevant services from non-profits, government resources and individuals or organizations in the private sector. We practice warm hand-offs. Because of our partnership with an employer, we can know and understand the benefits they offer to employees. Where it's appropriate, we make a connection back to HR or the benefit provider directly.
What Our Support Means to Employees
Over the past two years, we've created partnerships with 11 employers across our community, and to date, we've served more than 800 individuals. However, what sticks with us most are the employee success stories at our partner organizations.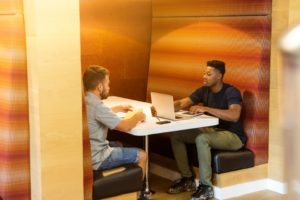 We helped one employee regain custody of their children and do so without facing mounting legal fees. We've helped numerous employees access wellness services through their EAP benefits. We've helped dispel misconceptions about seeking therapy and other forms of assistance. Employees come to trust the resource because they trust us.
Last year, we partnered with a local non-profit to provide free tax preparation services to more than 100 employees at our partner companies. Through our financial coaching services, we've helped hundreds of individuals get on sound financial footing. As a result, they have been able to buy homes, cars, make other significant purchases, and do so responsibly. For example, one employee became the first person in his family to become a homeowner.
Our team is also there for the most difficult of circumstances too. An employee experiencing an abusive relationship. Someone dealing with the loss of a loved one. Or even someone contemplating taking their own life. We are available to these employees confidentially and for as long as they need us, without judgment.
Creating Supportive Workplaces
Traditional workplace dynamics are primarily built on a judgmental framework. "I need you to show up on time, and leave your problems at the door." The modus operandi: Do what's expected of you, no matter how you feel or what personal challenges you're facing. There has been wider recognition that this may not be the best approach in terms of productivity and employee satisfaction.
Creating a supportive culture doesn't mean that you lose sight of the bottom line. It doesn't mean that you need to mimic family dynamics and use familial language in your workplace. A supportive workplace culture is not a family.
Your colleagues represent a team or, my preferred analogy, a community. We are stronger when each community member feels the support of the community, especially when our lives get tough. Support can mean many different things for different people, depending on the situation.
It's a real benefit to have a person in your workplace—that you can call, email or text; walk down the hall to see; or even look up from your desk and see walking by—whose only job is to care about how you are and lend a hand. That can be life changing.
We support your employees in life so they can meet their potential at work.
GrOW is a unique employee benefit that embeds a Navigator at your site to support employees, so they can be present and focused at work.