Written by: Noah McClain, State of Our City Volunteer from Mayor's Millennial Advisory Committee
It's about positive change – and that's why Young Professional Leadership from Urban League of Nebraska Young Professionals (ULNYP), Metro Young Latino Professionals Association (MYPLA), Greater Omaha Chamber Young Professionals, and the Mayor's Millennial Advisory Committee (MAC) came together in collaboration for the first-time to host the 2019 State of Our City. 
This Fall 2019 event helped Young Professionals better understand happenings within the community we call home; and how YPs can engage to help support growth, development, engagement and success in Omaha, Nebraska. Through intentional, inclusive discussions and input from the communities represented by these YP groups; this leadership team aimed to build an event filled with topics and speakers that represented our diverse backgrounds and interests within the City of Omaha.
All influencing the 2019 State of Our City program — where thoughts, opinions and insights were shared in the areas of Local Arts and Entertainment, Transportation, Economic Development, Entrepreneurship and a presentation from City of Omaha Mayor, Jean Stothert.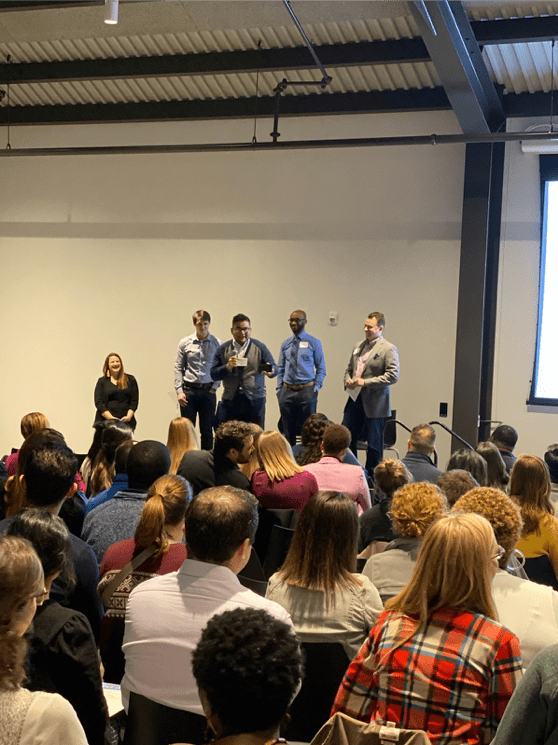 Throughout the evening, over 200 attendees heard from speakers that:
Encouraged engagement and volunteering for Local events like the Maha Music Festival, Heartland PRIDE, Cinco De Mayo Festival and African Cultural Festival Omaha
Shared a vision for how we can commute and navigate our city in ways that we want and choose through the Omaha Bus Rapid Transit system (ORBT) and other modes less reliant on single-passenger car transit
Informed attendees about local development projects; and the opportunities and challenges that influence these developments
Inspired us within and outside the Entrepreneurship community to strive for more; and focus on progress each day versus perfection
Provided a platform for us to hear from and engage with our Mayor about issues that affect our demographic
Following the event, attendees shared feelings of satisfaction, improved awareness and opportunities for improvement in coming years; but ultimately more questions.  Questions about the why, the how, and what-if scenarios that are curated whenever education and engagement meet at the intersection of inspiration and understanding. As our communities within this community continue to call Omaha, "home"; it's clear that our Omaha Young Professionals from North, South, East, and West plan to continue and improve their engagement in our city.  After all, as Julian Young (The Start Center) reminded us, "it's about progress and not always about perfection".  Let's continue our progress; continue to be open to the inclusion of members within our city; and continue to focus on not just building collaborations, but developing alliances for making Omaha a wonderful place for all of us.