Creative industries and the arts have been shown to support the development of a robust workforce, drive rural prosperity, and provide positive experiences for the entire community.
In 2020, State Senator Megan Hunt introduced LB780, allowing for the Nebraska Arts Council to form a creative district program. In 2021, after the bill was passed, State Senator Mike Flood introduced a separate bill providing $1 million annually to support these creative districts.
Nebraska is one of only a handful of states without this type of legislation. Creative districts build bridges between communities, promote civic engagement, improve business districts, and attract talent and investment. With Nebraska's unique program, each district sets its own goals. They know their community best, so there's a lot of flexibility in how each district chooses to use funds.
The Benson community rallied behind LB780 early on, with several individuals providing testimonies supporting it. It seems fitting that Benson is close to being designated as the first creative district in Nebraska. Just this month, the Nebraska Arts Council met with Benson representatives to finalize their site visit, the final step in the application process.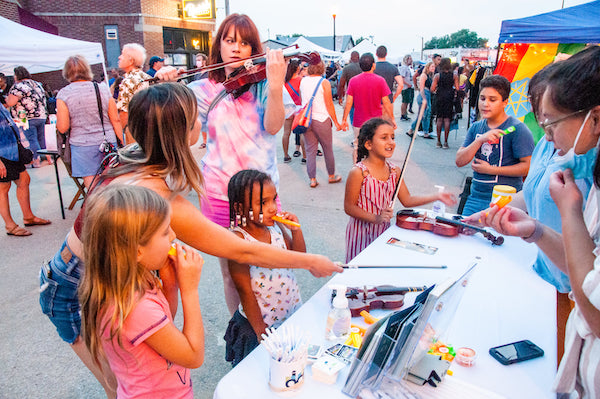 So, what makes Benson an ideal location for a creative district? Being an urban creative district, Benson has already been mobilizing these tools of a Business Improvement District (BID), business collaboration models, and an abundance of creative industries and organizations. In addition to the strong network of creative businesses and nonprofits that collaborate regularly, the area is also home to several historic buildings that house a collection of galleries, studios, music venues and art education centers. The Benson First Friday Art Walks have become a staple of BFF events and is offered for free to the public.
The designation as a Creative District by the Nebraska Arts Council helps Benson continue to attract and retain local creatives and support local economic development. Please visit the historic Benson neighborhood and help the community celebrate the creative district designation by supporting its many local businesses.
A list of those businesses and First Friday activities can be found by using the following links: 
Learn More at the Economic Outlook Forum
Experts will provide current information and analysis on the business climate, economic performance, emerging trends and attitudes towards future growth. Expect a thoughtful discussion of the national and local economy, performance data and perceptions. Get exclusive insights you can act on.