Creativity, quality design and exceptional customer service – it is the success trifecta at family-owned SignIT, a longtime provider of custom signage, banners, window lettering and promotional items in Greater Omaha.
"What drives us is having a great, respectable and ethical business," says SignIt's Ashley O'Neal.
Founded 21 years ago by Steve and Marianne Roarty, the couple's two sons, Scott and Matt, now own and helm the nine-person operation (10 if you count Steve who's retired but still pitches in as needed).
"Our company has been around for 21 years, and we all enjoy coming to work as each day is different," O'Neal says. "We love being involved in the community, working with various businesses and seeing our signs around town – that makes doing what we do enjoyable."
Winning Insights from Our June Winner:
Providing an Excellent Customer Experience
"We provide an excellent customer experience by creating a family-friendly atmosphere and treating each customer like they are part of the family. Our philosophy, since day one, has been the customer is always right and we try to meet or succeed their expectations."
"The way that you treat your employees is the way they're going to treat your business. If you treat your employees poorly, they will treat your business poorly. But, if you treat your employees with respect and like family, then they will treat the business like it's their own."
Empowering Employees and Creating a Culture in which They Can Grow and Succeed
"We try to give our employees the freedom to do their job. We feel this is a great way to build trust with each employee. With us showing trust in them, it creates a culture they feel a part of. We make sure they're held accountable for their job and reward them at various times for doing a great job."
Value of Chamber Involvement
"Being a member of the Omaha Chamber has helped our business by giving us new contacts, allowing us to meet different business people at chamber events that we might not have met before, and getting our name out there."
"We are active in the community by helping local baseball teams, golf outings, non-profits, churches, schools and the local chambers."
Want to learn more about SignIT? Check out the company's website.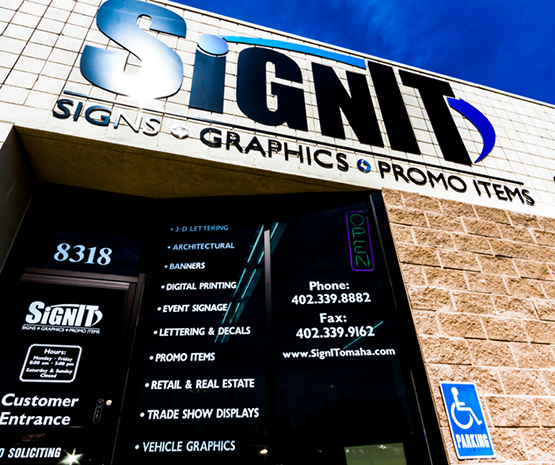 United Republic Bank is the sponsor of the Small Business of the Month award.