"Know what you do – and do it well. Don't dabble in areas you can't do well."
That's been a secret to success for Thor Schrock, an entrepreneur with a calling for the computer-related.
Thor founded Schrock Innovations, our July Small Business of the Month, in 1999. It's since grown from a home-based business to a multimillion dollar enterprise with locations in Omaha, Lincoln and Papillion. The company, which employs 15 people, specializes in a range of computer services, including computer repair, website development, data recovery and corporate IT support.
Winning Insights from Our July Winner:
Customer Service
"The thing that sets Schrock apart from its competition is our dedication to service and customer satisfaction. Our goal is that no customer ever leaves our service centers unhappy. Our business model provides better service and support than our box store competitors," Thor says.
Employee Engagement
"Every business needs systems and those systems evolve and change over time to respond to different challenges that arise," Thor shares. "Schrock provides its employees with the ability to make decisions on the technician level that get our customers what they need quickly and efficiently."
Best Practice Tip
"The biggest lesson that has contributed to the success of Schrock Innovations is that it pays to play the long game," Thor explains. "If you focus on solving today's problem with a customer in the most efficient and pleasant way, they become a customer for life. Businesses with a devout following can thrive in challenging environments."
Value of Chamber Membership
"The Chamber allows us to join our voices. When we stand together, we can affect a positive change that we would not be able to achieve on our own."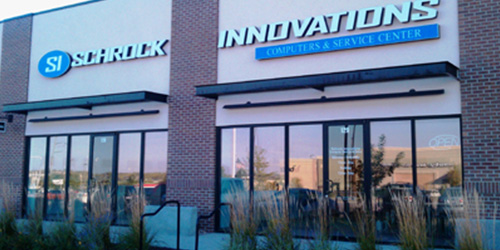 In addition to leading Schrock Innovations, Thor also hosts weekly radio shows in Omaha and Lincoln:
Compute This
Saturday: KFOR 1240 AM (Lincoln), 10 – 11 a.m.
Sunday: 1110 KFAB (Omaha), 7 – 8 a.m.
Tech Happens
Saturday: 1290 KOIL (Omaha), 8 – 9 a.m.
United Republic Bank is the sponsor of the Small Business of the Month award. View more information or nominate a small business online.