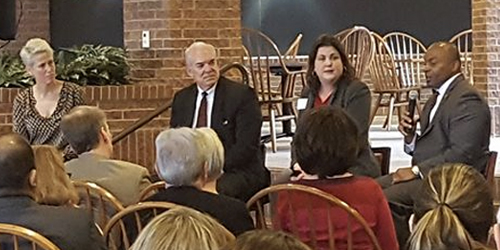 Through a partnership of three of Greater Omaha's best-known organizations – leaders in their fields of business development, social service delivery, and race and workforce development – we have an opportunity to consider our possible economic future, alleviate poverty and determine how to play smarter, to work with the trends facing us and be on the cutting edge of trends facing the world. The time start is now.
Strategic4Sight, is an ambitious collaboration drawing on the strengths and future-focuses of the Greater Omaha Chamber, United Way of the Midlands and Urban League of Nebraska. The project will be facilitated by Rebecca Ryan, founder and owner of NEXT Generation Consulting, and Greater Omaha's very own resident futurist.
Strategic4Sight Objectives:
Develop a bold, future, economic identity for Greater Omaha that will transform the community into an even better, more future-focused version of itself.
Forge new partnerships and alliances among regional stakeholders committed to next-generation strategies.
Engage leaders who can drive action from this initiative and are committed to making the region a great place for current and future generations.
Learn more about the Strategic 4Sight process.
Recent headlines:
Futurist to help shape area's economic development
'Strategic 4Sight' collaboration to path Omaha's future