When you believe in what you're doing, it has an effect on those around you.
Join our year-round elite group of sales volunteers responsible for the retention and recruitment of Chamber members. Participation enables access to a seasoned group of sales professionals, continual "on-the-job" practice and leadership opportunities. Volunteers are expected to bring in a minimum of $5,000 annually by selling at least six new memberships and working with existing members to renew memberships.
Bi-monthly meetings and offered prospects provide you with the tools needed to succeed in President's Club while promoting your business and expanding your circle of influence.
Chairman's Circle Award Winners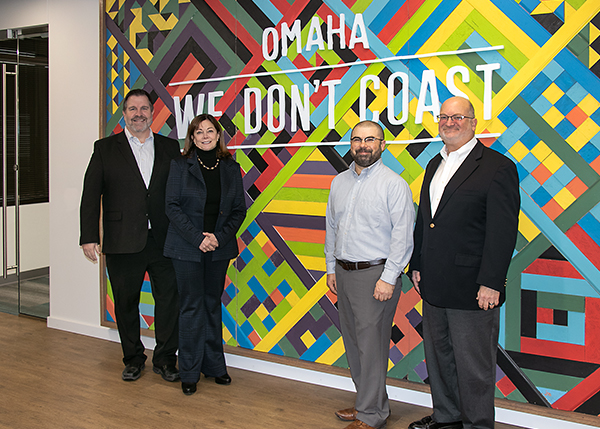 From left to right: Erik Terkelsen – Holidynamics, Janet Noll – Flood Communications / Telemundo Nebraska, Kim Preheim – First National Bank, Jay Durmaskin – Shelf Genie
Being involved with the President's Club gives me the opportunity to connect with business leaders in Omaha and stay informed on Omaha's plans and growth. We have the inside track on businesses moving to the area and new developments covering seven counties. I'm able to help businesses of all sizes connect through membership and networking and simultaneously brand my company with them as well. The PC Group gives me the opportunity to work with a fun group of seasoned sales professionals, the Chamber staff and other great volunteers….all working together to grow the GOC. 
The Greater Omaha Chamber works for you – and because of you!
Active engagement by our members propels us and helps us accomplish our mission.