Omaha, NE, Nov. 19, 2019 – The Greater Omaha Chamber's 2019 Economic Outlook Luncheon, held on Tuesday afternoon, found a strong and recurring theme in "growth" – revenue growth this year, projected sales growth next year and the importance of inclusive growth for the economic future of the region. "Everyone in this room has an important role to play in helping to create a better future for our community," said David G. Brown, Chamber president and CEO, as he opened the future-focused, annual event at Embassy Suites Omaha – La Vista. This year's luncheon, which delivered exclusive insights on economic performance and emerging trends, was capped by keynote speaker Amy Liu, vice president and director of the Metropolitan Policy Program at Brookings Institution and the Adeline M. and Alfred I. Johnson Chair in Urban and Metropolitan Policy. "The 'can-do optimism' of this community is palpable, and the commitment to diversity & inclusive is very genuine," Liu said. A thought leader on economic development, prosperity and regional competitiveness, Liu frequently writes about inclusive economic growth, the fortunes of mid-sized cities and small towns and the intersection of economic, workforce and community-development policies. "Good economic development is inherently inclusive," Liu said. "Job seekers, especially young professionals, are looking for employers that put a high priority on creating workplaces that are open, diverse and tolerant." Her keynote, "Inclusive Growth in a Digital Age," challenged attendees to think more broadly about community prosperity and inclusive economic growth, the principles necessary for success, and the challenges and opportunities facing the Greater Omaha region. "More progress is needed if Greater Omaha aspires to be a hub of inclusive innovation benefitting all local residents," she said. Parallel to the Chamber's five-year Prosper Omaha 2.0 economic development strategy that emphasizes business growth, people and place, Liu encouraged business and community leaders to pursue a three-part strategy for embracing inclusive economic growth:
Nurture "a dynamic business ecosystem where existing firms and industries, including women- and minority-owned businesses, are key sources of innovation and entrepreneurship"
Build "a skilled workforce that comes from grooming existing, homegrown talent and including new pathways like dual-learning, apprenticeships, and on-the-job training in conjunction with employers and educators in the public sector"
Create "connected neighborhoods and places where jobs, housing and opportunities are concentrated in well-designed vibrant districts across the region, not just downtown"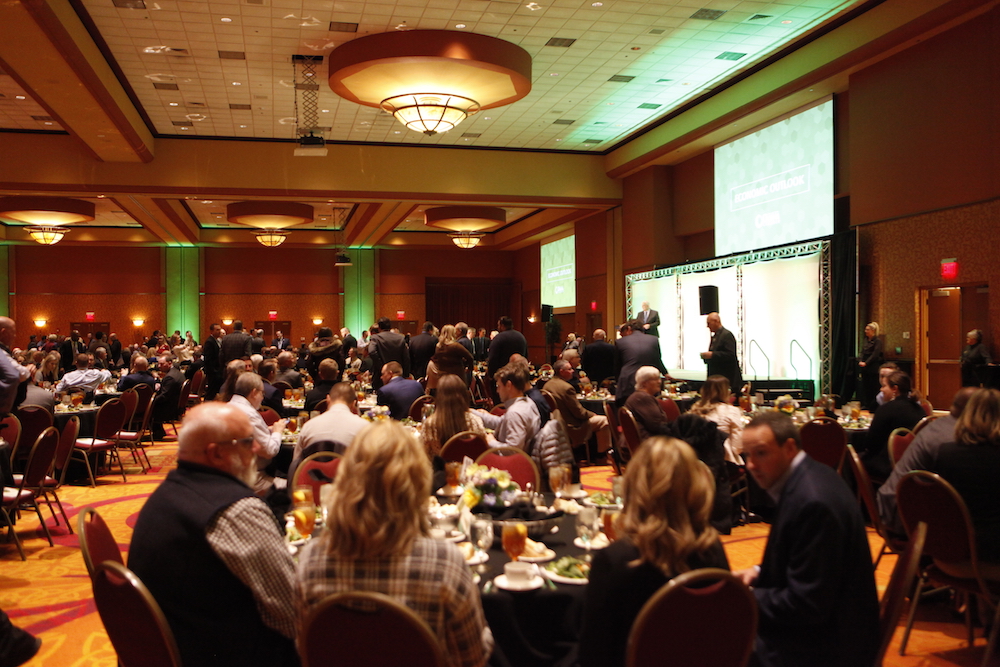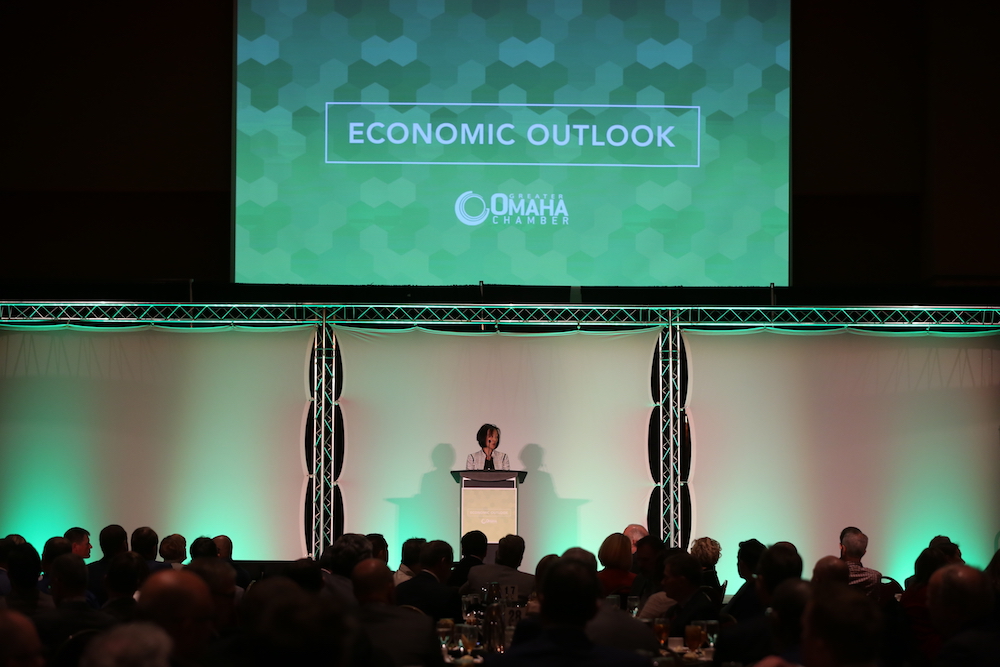 At the end of Liu's keynote, Brown noted, "Our challenge is to make sure you continue to hear the message of what we need to do to become the best place in the country." In keeping with tradition, the luncheon also featured access to reporting on the most current, regional economic trends from the Reserve Bank of Kansas City and an exclusive first-look at results of the Chamber's annual Economic Outlook Survey. This year's survey factored in responses from more than 100 of Greater Omaha's CEOs. A snapshot of survey results:
Growth in 2019
Almost 60% of company CEOs said their sales revenue increased in 2019, compared to 2018.
About half said, in 2019, their company invested relatively the same amount of capital (51%) and created the same number of jobs (49%) as 2018.
Relative Competitiveness in 2019
92% of CEOs said their company is growing at a rate that is the same or faster than the U.S. economy.
95% said that their company performs the same or better than other companies in their industry.
Forecasted Growth in 2020
Almost 70% project that their sales revenue will be higher in 2020.
Less than half (45%) expect to increase the number of employees in their company in 2020.
46% plan to invest more capital in 2020 than 2019.
When compared to previous responses, 2019 CEO respondents are slightly more optimistic than the 5-year average on their future sales revenue, job growth and capital investment.
For a complete look at the results of the 2019 Economic Outlook Survey, who responded and survey methodology, visit https://www.omahachamber.org/economic-outlook/. The Economic Outlook Luncheon is sponsored by ACCESSbank, BairdHolm, D.A. Davidson, Deloitte, and Lamp Rynearson. About the Greater Omaha Chamber The mission of the Greater Omaha Chamber is to champion a thriving business community and a prosperous region through visionary leadership and collaboration. About Greater Omaha Greater Omaha is a No. 1 ranked up-and-coming-tech hotspot, the No. 1 Best City for College Grads to Start their Careers in 2018 and Time magazine's 2017 No. 3 Most Up-and-Coming City in America. Recognized for its "We Don't Coast" attitude, and named America's No. 2 Best Small City, Greater Omaha is home to more than 30 communities and nearly 1 million people, with a youthful population (more than 40 percent are age 24 or younger), low cost of living and steady economic growth that outpaces the nation. Berkshire Hathaway, Mutual of Omaha, Peter Kiewit Sons' Inc. and Union Pacific – all Fortune 500 companies – call Greater Omaha "home."