Ryan DeBolt, owner of CombOver Contracting, says he's "been climbing on roofs, making repairs and treating customers right for more than 20 years."
"We are a small company that strives for perfection on every job," DeBolt says.
CombOver specializes in roof replacement, windows, siding and home repairs.
"We absolutely love what we do and couldn't think of a better community to do it in," he says.
Winning Insights from Our Winner:
Providing an Excellent Customer Experience
"CombOver likes to come in and take ownership of your home while we're improving its exterior look," DeBolt says. "We know the importance of keeping our customers in the loop throughout the entire project. This is especially true when doing a multi-trade project. And lastly, we always try and put ourselves in the customers shoes."
Empowering Employees and Creating a Culture in which They Can Grow and Succeed
"Because our business is made up of a lot of moving parts, often times things will go wrong. We train under the principals that 90% of this is adaptive. If you foresee a possible issue and alert someone of its existence, it can make for a much smoother situation when things go wrong," DeBolt says.
Best Practice Tip
"No matter how small you are, you can still make an impact. As long as you don't give up on your dream, it will not give up on you."
The Value of Chamber Involvement
"We have utilized a lot of the networking that has been available. We feel that the Chamber is as important as our membership with the BBB. And it has been a strong name to associate our small business with," DeBolt says.
Impacting the Community
"We love this town. We grew up here, and we are your neighbors. Because of this, we have a track record of giving back on every job we have done," DeBolt says. "We were in Forbes magazine, the February 28th edition, for some of our charitable work," which includes raising over $15,000 as Team Blood Angels with the Leukemia & Lymphoma Society and serving on the executive committee of LLS's Light the Night Campaign, taking weekly food runs to a small pantry in the parking lot of St. Pius X / St. Leo Catholic School, and donating over 2000 personal meals to healthcare workers through the Observatory Bar and Grill.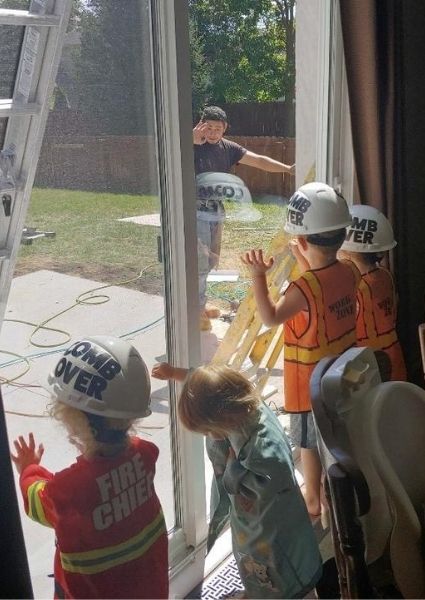 Want to see your business featured here?
Eligibility for Small Business of the Month is just one benefit of being a Chamber member.