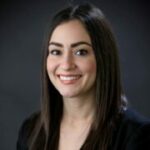 As 2021 draws to a close, I want to express my sincere gratitude to the YP Council and the Omaha YP community for a great year. Filled with tons of unknowns, the YP community dove into coming back together in a safe yet interactive way. From the first ever virtual YP Summit, to a 'YP's in the Park' outing in partnership with NULYP and MYLPA, to a return to an in-person INTRO event at Top Golf, our Council truly embraced the unknown and engaged the Omaha community in a major way.
This year I asked the YP Council to focus on our vision of Omaha. The YP Council's vision of Omaha is a dynamic, inclusive, and integrated community where diverse young professionals want to live, work and play. The council realized this goal through acts of intentional inclusion like hosting a panel at the May INTRO event highlighting members of our Asian community and co-creating an 'I will' pledge for YPs to sign, committing themselves to creating a more inclusive, safe, and affirming community for all young professionals in Omaha.
I am proud of all the YP Council has accomplished in 2021 and cannot wait to see what the Council will do next year. On that note, it is my pleasure to introduce the newly elected 2022 YP Council Chair, Darius Christensen.
Darius has been involved with the YP scene in Omaha for quite some time. He has served on the YP Summit planning committee for several years, is a third-year Council member, and is currently the YP Summit Planning Committee Chair. He is well-respected by his peers and has an infectious energy that the Omaha YP community will greatly benefit from.
As always, we love to hear from local YPs regarding ways we can collaborate and best serve you. Should you want to reach us, please contact us at omahayp@gmail.com.
Happy Holidays to all. Cheers!
Rebecca Atkins
2021 YP Council Chair
Learn More at the Economic Outlook Forum
Experts will provide current information and analysis on the business climate, economic performance, emerging trends and attitudes towards future growth. Expect a thoughtful discussion of the national and local economy, performance data and perceptions. Get exclusive insights you can act on.