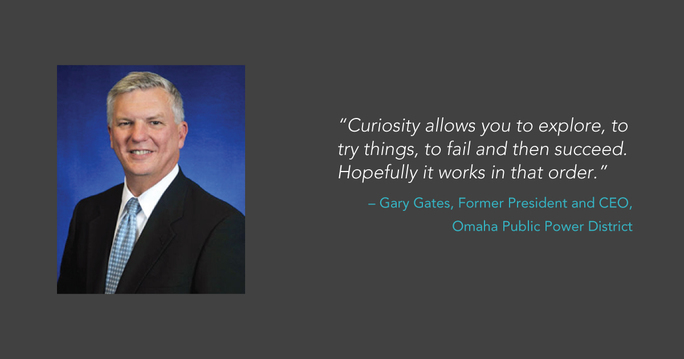 Unshakeable curiosity, steadfast loyalty and supportive family – they are the catalysts for one powerful legacy. Wayne "Gary" Gates retired from Omaha Public Power District (OPPD) in 2015, capping an almost 43-year career that saw him rise from summer employee to second-longest serving president and CEO.
"It was exciting every day, and I think if you're passionate about your work and you believe the product you're delivering is important, it's not a hard call to stay and keep doing it," Gates says.
Born in Red Oak, Iowa, and raised to reflect the strong work ethic of his parents, the only child also gained inspiration – and an affinity for engineering – from his uncles. One, an electrician, gave him old motors to tear apart. Another, a farmer, taught him about hard work, independence and how to "fix things."
"A third uncle was involved in business with my father, but his son ended up going to the Naval Academy, was in nuclear power of all things and part of the initial crew of the Nautilus. He gave me a curiosity that eventually led to where my career ended up."
An engineering grad from Iowa State with Master's Degrees from the University of Nebraska-Lincoln and Creighton, Gates launched his career at OPPD in 1972. What started as a temporary summer job carried into the fall and four decades beyond, a steady series of promotions along the way:
Manager of Fort Calhoun Station.
Executive assistant to the president
Division manager of Nuclear Operations
Vice president
"It's really been a case of being successful in the jobs I had," Gates says. "I would be aware of career opportunities, but it didn't drive me. … I'd hear my mother's voice all the time – do well at what you're doing; don't worry about what's around the corner."
In 2004, it was the president and CEO's office. Under Gates's leadership, OPPD built a state-of-the-art coal plant, conducted a major overhaul of its nuclear plant and developed its first ten-year strategic plan.
"We evolved into a new energy plan. We will be 33 percent renewable and over 60 percent carbon free for a strategy. Why is that important? Because it's the right thing to do for the future," Gates says.
Perpetually future-focused as CEO, Gates enhanced cyber-security measures and ensured customer service remained a top priority – an accomplishment backed by 13 consecutive awards from J. D. Power and Associates.
"Our customers are our owners. At a minimum, you want to take care of your owners."
But more than that, he says OPPD employees embrace their obligation to serve and ensure
the Omaha community has the power it needs to thrive.
"If you think about a utility like OPPD – when everyone is gathered around their fireplaces or in their basements hunkered down in a storm, our folks go out, and that had a piece of my heart every time they did."
That's what he says he misses the most: interacting with those dedicated OPPD employees – the men and women who kept him so energized right up until his retirement in 2015.
"I'm excited about the future of that company with the people who are there," Gates says. "They're going to do a great job."
As for his future – the father of three now deals in the wattage generated by his four granddaughters.
"I never thought I'd be hanging on to a cup of coffee at a cold soccer game again. Now with grandkids, I'm doing that again. It's nice to have that full circle."
Gates has a little more time now for flying his plane – a pastime and a passion – and then there's his list of community involvements, including an exploratory project to study riverfront development possibilities.
"It's like many projects in Omaha. It starts out with an idea, but the leadership takes on ownership and they make it happen."
Just last year, the United Way named Gates and his wife Kathy – the woman he married 38 years ago and "the glue of our family" – the organization's 2015 Citizens of the Year. Whether it's his work with the Boy Scouts, Boys Town or Creighton University, Gates traces his affinity for service back to his parents – and his time as a Boy Scout and Eagle Scout himself.
"When we talk about 'Paying it forward,' I think that's a very important concept. We need to do things now so that the people who follow us – our kids – will have a better situation and take it to the next level."
Gary Gates: An Omaha Business Hall of Fame Inductee who has electrified Greater Omaha with his curiosity, dedicated service and steady leadership.

The Omaha Business Hall of Fame celebrates exceptional achievement, enduring legacies and bold community impact.
This year's inductee class, which also includes the late Irving Dana Jr., Fred Jr. and Kim Hawkins, Jack Koraleski and Steven Martin,
will be welcomed and honored at the Omaha Business Hall of Fame Gala on Wednesday, April 13, 2016, at the Holland Performing Arts Center, 1200 Douglas St.
The evening begins with a 6 p.m. hors d'oeuvres dinner followed by a 7:30 p.m. induction ceremony and dessert. Parking is included.
Gala proceeds support Greater Omaha Chamber Foundation efforts to
attract and retain young professionals and maintain the permanent Omaha Business Hall of Fame exhibit at The Durham Museum.

Thank you to our sponsors: Fraser Stryker PC LLO | KPMG LLP | U.S. Bank