For a relatively new company, MyStaff Inc. boasts an awful lot of staffing experience. That's what happens when three former competitors – each one a seasoned industry expert – come together to help local businesses and job seekers thrive.
"All of our past decades in the staffing world, the years of hard work and experience in this competitive industry are paying off," says MyStaff partner Virginia Kiviranta.
Backed by its in-depth selection process, MyStaff specializes in the placement of temporary, temporary-to-hire, and direct hire professionals at all levels of experience with a particular focus on the administrative/clerical, customer service, accounting, and human resources fields.
Partner Brad Jones says MyStaff's team of five excels in Omaha's competitive marketplace by making connections, building positive relationships and taking great care of customers: "In our industry, our drive is two-fold: helping our customers succeed and grow their businesses as well as placing our candidates in positions where they can thrive and develop their knowledge. We love celebrating collective success."
The company launched just over a year ago, and Kiviranta says the outpouring of support has been tremendous: "We are thankful strong business relationships have supported and followed us because they trust us. Our clients know we work hard for them, that we provide them with the best candidates possible to fill their staffing needs and we are familiar with their business."
Winning Insights from Our November Winner:
Providing an Excellent Customer Experience
"We are in the service industry," Kiviranta says. "We have to be available when our customers and employees need us, which could mean after hours or on vacation. We all work as a team, which is crucial to our success; however, we each have the gift of experience. Our employees all have 10+ years in the staffing industry, and we have grown alongside our clients so we understand their customized needs and expectations. We have established credibility and obtained valuable insight other staffing providers may not possess. Our clients know we will be accessible when they need us and they appreciate we understand their business needs and that sets us apart from many of our competitors."
Empowering Employees and Creating a Culture in which They Can Grow and Succeed
"We want our employees to know how much we value them from day one. Autonomy, trust, respect, flexibility, transparency, fun and a comfortable environment are key. Let's face it, we all have to work. We made a conscious decision to make the MyStaff culture comfortable, collaborative and respectful," Jones says. "We offer extrinsic and intrinsic benefits: unlimited PTO, the ability to work from home when needed, a casual work environment, time off to volunteer, educational opportunities paid for by the company, fun events, happy hours and an environment of support and free of micro-management."
"Our tips to other business owners are basic: be honest, be helpful and be authentic. Relationships are crucial to business success. Do what you say you will do, listen to your customers and be real," Jones says. "Customers choose to do business with people, not companies so our approach is to be ourselves, add value and if we can't add value be honest about it."
Value of Chamber Involvement
"Being a Chamber member gives us access to great events and networking opportunities. When you are a new business, there is a lot you do not know," Kiviranta says. "The Chamber is an excellent community resource for events and building connections. The Chamber offers so many educational opportunities with so many choices that can fit any type of business model."
"Since MyStaff's inception, we've been very mindful of our ability to impact a variety of non-profit organizations. We make a point to share our time as well as help contribute to fundraising campaigns and events for several organizations," Kiviranta says. "We enjoy helping grant wishes for Make a Wish, delivering turkey dinners around Thanksgiving with Drumsticks on Wheels, painting the houses of elderly homeowners with Project Houseworks, mentoring kids at Partnership4Kids, and serving on committees with HRAM and SHRM NE. We keep pretty busy and engaged in our local and state communities."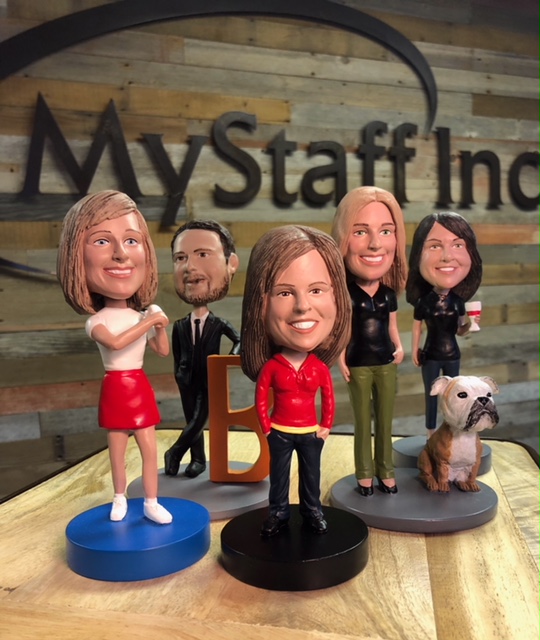 You have a great story – tell us!
Excellence is a way of life here – earned not given – and it should be celebrated!