"We want to build peace of mind for our customers." –
Matt Cradick, president, Husker Hammer Siding, Windows & Roofing
Since its launch in 1998, Husker Hammer Siding, Windows & Roofing has completed nearly 10,000 exterior remodeling projects.
"This doesn't happen without an extremely strong moral compass," says company President Matt Cradick.
With each job, our first Small Business of the Month for 2016 says it strives to "empower the customer to make informed decisions, be the progressive flagship in an industry known for ambiguity and hold steadfast in a pursuit of excellence."
"That may seem like a mouthful, but those are the ideas we started with and the fundamental words we've lived by every day since," Cradick explains.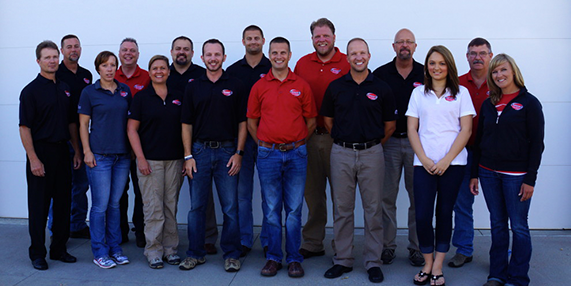 Winning Insights from Our January Winner:
Customer Service
"We ensure premier customer service by following through on our mission statement – we treat our customers, suppliers and distributors exactly the way we would want to be treated."
Employee Engagement
"We keep the team fired up and motivated through open and transparent communication. … We are not a micro-managerial type of organization. We trust our team to lead and act on their own accord while upholding our mission statement."
Best Practice Tip
"Be genuine to your team and always have their best interest in mind, along with the company's. It has to be a win/win situation. A happy team is a productive team, but they still need to have guidelines and follow-up."
A Better Business Bureau Integrity Award winner, Husker Hammer embraces a "giving back to the community mentality" through its involvement with Habitat for Humanity, Heartland Hope Mission and other nonprofits. It is also actively involved with several local chambers, including ours.
"The Chamber has allowed us to get our name and reputation out into the local communities and to help build great relations with other fantastic people and great local organizations," Cradick says.
Want to learn more about Husker Hammer Siding, Windows & Roofing? Check out the company's website.
United Republic Bank is the sponsor of the Small Business of the Month award. View more information or nominate a small business online.