Sponsored content
"A company's corporate citizenship plan is like a single drop of water. If the plan is done well, that single drop can create a ripple effect that leads to lasting social change for all involved." ‒ Beth Bengston, Harvard Business Review.
At D.A. Davidson, community involvement has been a part of our DNA since our company's inception, and we have long been committed to improving our world. We continue to believe in the transformative power of working to build more just and sustainable communities. Our Chairman and CEO Jim Kerr has said it best: "As financial professionals, one of the best investments we can make is in our communities."
A Proud Member of the Omaha Community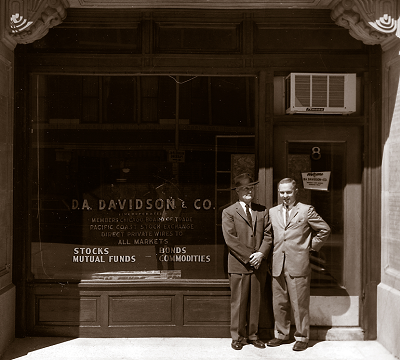 As a financial services firm founded in 1935, D.A. Davidson has spent more than eight decades expanding our reach to communities across the country through our volunteer efforts as well as the services we offer to our individual, institutional and municipal clients.
Our first office in Omaha officially opened its doors in 2005 with the acquisition of a team of professionals who had already been serving the local community for decades. We have been a part of the Omaha business community ever since and now have four offices throughout the state of Nebraska, consisting of Wealth Management advisors and Fixed Income Capital Markets professionals.
When it comes to the latter group, our Omaha Fixed Income office includes a team of sales & trading and public finance professionals who have helped grow Nebraska's communities by offering innovative borrowing solutions to municipal issuers. The result? More capital investment for the local community. By strengthening infrastructure, expanding economic development and enhancing our communities, we are teeing up a bright future for generations to come. Our firm becomes actively invested in communities where we not only serve our clients, but also those same communities where we live, work and play.
Giving Back as One of Our Core Values
Throughout the years, we've encouraged our associates to share their ideas to form our corporate giving strategy. These ideas have resulted in a variety of volunteer and giving programs within our firm that are currently deployed across three main focus areas: Education, Human Services and Community Development, and Arts and Culture. Based on these core tenets, we're proud to make an impact through our corporate giving, individual gift matching incentives, financial literacy programs, regional giving committees and D.A. Davidson Day.
The most successful community involvement programs are those that can be replicated and scaled across multiple locations, reaching several communities. This holds true for a variety of the giving programs at our firm with one of the most impactful programs being D.A. Davidson Day. This annual event serves as a dedicated time for our associates to take a day away from their desks, roll up their sleeves, and give their time and skills to designated nonprofits in their communities. In 2021, a year in which the pandemic continued to bring forth pressing challenges to many, we had participation from more than 600 volunteers, logging in upward of 2,100 volunteer hours for more than 65 organizations. The structure implemented around D.A. Davidson Day has allowed our firm to continue to support our communities in an even more expansive approach than some of our previous years.
Corporate giving has dedicated its 2021 resources and financial donations to some of the larger national organizations such as Meals on Wheels, Big Brothers Big Sisters, Habitat for Humanity and the National Alliance on Mental Health. Additionally, our regional giving committees were formed specifically to identify local nonprofits in need of financial support and fundraising events where our associates can volunteer, becoming truly engrained in their communities.
Supporting Our Local Nebraska Communities
So, how are we involved in our community here in Nebraska? Of course, our volunteer actions across the country are important to each of our associates, and our Nebraska team is no exception.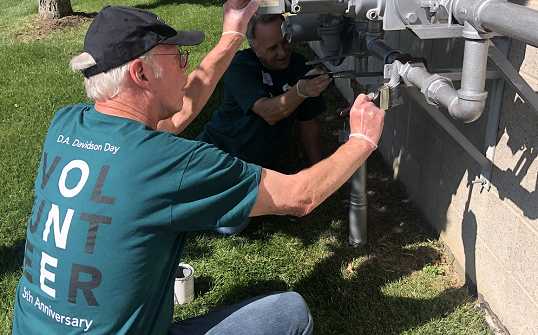 Throughout these last few years, Nebraska's regional giving committee has dedicated many of its resources to the University of Nebraska, the Madonna Rehabilitation Hospital and the Willard Community Center. However, this year, our committee decided to spread their contributions in support of over 17 organizations throughout the state, many with a focus on youth-related COVID-19 impacts.
Simultaneously, within the last three years, our colleagues from our Omaha office have participated in D.A. Davidson Day's hands-on efforts with four different notable, local organizations. Habitat Restore allowed our associates to showcase some of their skillsets by assisting customers, processing donations, restoring and repurposing various items, and updating some of the grounds around the building. Through an opportunity with No More Empty Pots, our associates helped address food insecurity through planting and ongoing maintenance of gardens, followed by group activities that connect the community with urban food production. Some of our colleagues were even able to dust off their construction skills by building picnic tables for the Omaha Permaculture gardens. Lastly, we helped in restoring the outdoor grounds for the Child Saving Institute through landscaping and general upkeep.
In today's environment, our country and our communities continue to face ongoing adversity, and we will continue to support organizations addressing these critical needs. Community involvement has a direct impact on the overall culture and success of our firm, and we are proud of our investment to date.
This material is being provided for educational and informational purposes only. Information contained herein is believed to be reliable, however; we can make no guarantee as to its accuracy or completeness. The information in this publication is not investment or securities advice and does not constitute an offer. Neither the information nor any opinion in the publication constitutes a solicitation or offer by D.A. Davidson & Co. member SIPC or its affiliates to buy or sell any securities, options, or other financial instruments or provide any investment advice or service.
Join our Community of 3,000+ Businesses
Together, we accomplish more than any one person or business can accomplish alone.