Photos by C41 Photography
One of the greatest honors the business community bestows is a place in the Omaha Business Hall of Fame. From finance and franchises to retail, healthcare and transportation, our 2019 class has elevated some of Omaha's most iconic companies and institutions.
As part of the induction process, a special pinning ceremony took place with current members of the Omaha Business Hall of Fame.
A true celebration, guests enjoyed an hors d' oeuvres dinner and cocktail hour while mixing and mingling with some of Greater Omaha's finest.
Our honorees have achieved inspiring levels of success, contributed to the vitality and economic growth of our community in a lasting and meaningful way – with much more impact to come. A formal induction ceremony gave each honoree a moment in the spotlight.
Humble and family-focused, Dan Bishop's "yes" attitude led to the founding of three successful businesses and one extraordinary franchise network. The result is millions of lives – including many of our own – made easier, cleaner and safer.
Gail DeBoer started her work-life with the Omaha Royals – but the real "grand slam" came when she found her niche in financial services. For 31 years now – 12 as president and CEO – she's been eyeing and achieving more for Cobalt Credit Union and the thousands of members it serves.
Our community lost an icon in December with the passing of John Estabrook. A healthcare visionary, he channeled his own experience as a patient into a groundbreaking career – one that emphasized an incredible amount of innovation along with "dignity, compassion and empathy" for everyone served by Methodist Health System. It was our privilege to honor John and share his story.
Four remarkable individuals, three generations, one family…
Together, they've grown a small typewriter company into an office equipment powerhouse. It's only fitting that these four members of the Kavich family enter the Omaha Business Hall of Fame the same way – together.
Our final honoree of the evening took self-determination, intense dedication – and $2,500 – and turned it into something truly exceptional: a company that's become a national player in the transportation industry – Wick's Truck Trailers.
Gale Wickersham – "Wick" – and his family have shared that success with the community.
The event concluded with final congratulations to the honorees over dessert and coffee.
Proceeds from the Gala support our efforts to attract and retain young professionals – and maintain the permanent Omaha Business Hall of Fame exhibit at the Durham Museum.
Thank you again to our valued sponsors who played a crucial role in making this event a reality and a success year-after-year. We applaud you, Fraser Stryker PC LLO, KPMG LLP and U.S. Bank.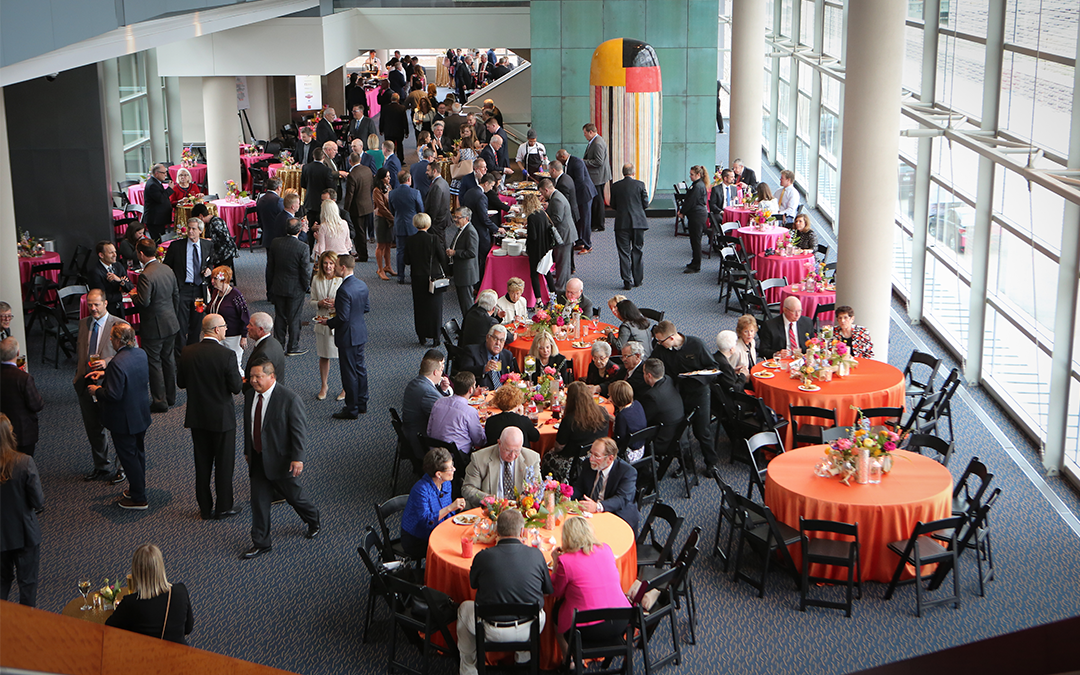 Chamber Events
You expect opportunities to connect. We bring people together.