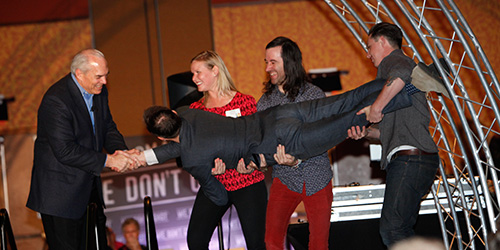 The "excellence vibes" are going to radiating from Embassy Suites Omaha – La Vista on Tuesday, May 10. Come soak them up – and celebrate with us!
Healthcare, finance, social services and more… Pick a sector and you'll find outstanding companies and individuals committed to excellence, helping make Greater Omaha a more vibrant place to do business, work and live. It is our privilege, every year, to recognize and applaud them – and invite you to do the same.
Our 2016 Greater Omaha Business Excellence Award winners are…
Big Brothers Big Sisters of the Midlands
Body Basics Fitness Equipment
BuilderTREND
Children's Hospital and Medical Center
DLR Group
Farm Credit Services of America
First National Bank
Goodwill Industries, Inc., Serving Eastern Nebraska and Southwest Iowa
LEO A DALY
Lutz
NEI Global Relocation
OBI Creative
The Omaha Home for Boys
Partnership 4 Kids
PayPal
PrairieSmarts
Project Harmony
QLI
Saving Grace Perishable Food Rescue
TAGG (Together A Greater Good)
Small Business of the Year: Sun Valley Landscaping
The public is invited to the awards celebration on Tuesday, May 10, 4 – 6 p.m., at Embassy Suites Omaha – La Vista. Buy your ticket online! Invite your friends and co-workers to join you – a prime way to immerse yourself in excellence and unwind after work!
Tickets include hors d'oevres and one drink ticket: $40 per person or $1,000 for a VIP table of 10 (guaranteed seating)
Special distinction will be given during the celebration to those winners that demonstrate specific characteristics of excellence in business, including innovation, leadership, philanthropy through nonprofit, and community. Milestone recognition will also be given to businesses celebrating an anniversary of 25, 50, 75, 100, 125 or 150 years in business.
A heartfelt thanks to our celebration sponsors: Markel, PayPal and United Republic Bank.
For more information, visit OmahaChamber.com/ExcellenceAwards.