You are Omaha's Future
We launched Leadership Omaha in 1978 to develop effective leaders who will strengthen and transform the community. A selection committee of program alumni and Chamber board members ensures that each class of 45 to 49 participants reflects the diversity of the community-at-large.
Applications are no longer being accepted for Class 43.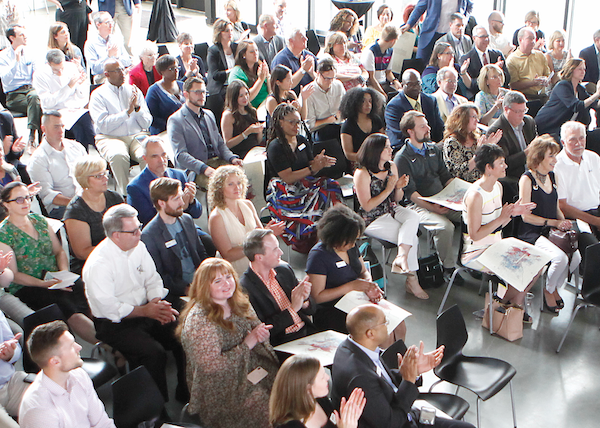 Program Specifics
Open to participants who live or work in the Greater Omaha area
Program tuition: $2,500
Program includes a mandatory opening retreat in September and monthly Seminars from October – June with monthly seminars from 7:30 a.m. – 5 p.m. A small group activity is another core part of the programming with each group selecting, developing and executing a project for the benefit of the Omaha community.
The curriculum focuses on:
Community trusteeship
Community awareness
Leadership styles
Leadership Omaha Goals
Communication
To provide opportunities for communication among emerging and established leaders
Awareness
To develop participant awareness of the Greater Omaha community, its problems, challenges and opportunities
Leadership
To explore the aspects of leadership and help participants identify and enhance their own leadership styles with an emphasis on the community perspective
Motivation
To create an environment in which participants are motivated to develop a sense of community trusteeship and encouraged to assume leadership roles in community affairs
Seminar Dates: Class 43
Program participants must attend 80 percent of seminars to graduate. The health and safety of our community is our highest priority. We will closely monitor the status of the epidemic and follow CDC guidelines to determine if program events are held in-person or virtually.
Virtual Orientation: 4-5 p.m. August 20
Mandatory Retreat, 
Sun, Sep 13, 4:30 p.m. – 7:30 p.m.
Mon, Sep 14, 8:00 a.m. – 5:00 p.m.
Tues, Sep 15, 8:00 a.m. – 12:00 p.m.
City Environment, Oct 20, 7:30 a.m. – 5 p.m.
Health & Human Services, Nov 19, 7:30 a.m. – 5 p.m.
Government, Dec 10, 7:30 a.m. – 5 p.m.
Inclusivity, Jan 21, 7:30 a.m. – 5 p.m.
Community & Economic Development, Feb 18, 7:30 a.m. – 5 p.m.
Education, Mar 18, 7:30 a.m. – 5 p.m.
Justice, Apr 15, 7:30 a.m. – 5 p.m.
We Don't Coast, May 20, 7:30 a.m. – 5 p.m.
Closing Seminar, Jun 3, 7:30 a.m. – 4 p.m.
Graduation Reception – June 3, 4:30 – 6:30 p.m.
Learn More About Leadership Omaha