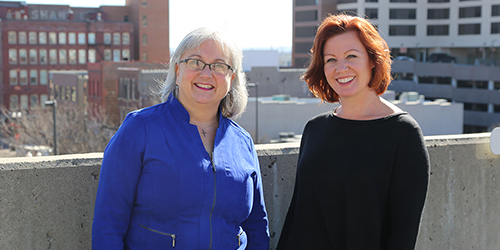 Leadership Omaha
, one of the Chamber's most long-standing and revered programs, is excited to announce a change of leadership.
Lynda Shafer - known to many as leader, mentor, "cruise director" - ran the program for 18 successful years. Lynda is not leaving the Chamber, just working to cultivate and develop leaders in a different capacity. She's earned a huge round of applause - and a heartfelt thank you - for her energy and dedication in running LO since Class 22.
Liz Kerrigan, our new leadership strategist, and the fourth director of the program since its inception in 1978, is ready to take the helm. Liz joined the Chamber in January after serving as director of account management for WEX Health (formerly Bennaissance). Having led a number of professional teams, she understands the day-to-day challenges, responsibilities and opportunities of a leader.
"Leadership Omaha has an important mission and I feel lucky to be the one to help continue its success," Liz says.
Leadership Omaha is a tight-knit community where true friendships are made and classmates lean on each other all throughout their lives. Liz will continue to build upon those foundations and set the course for all the LO classes to come.
"I look forward to the opportunity to work with and help transform leaders who will impact the future of our community," she says. "I am excited by the chance to interact with leaders who are passionate about personal growth, community engagement and transformation."