June Small Business of the Month: iFixOmaha
Electronic mobile-device repair is a relatively young industry – and iFixOmaha, our June Small Business of the Month, is among its pioneers.
Founded in Jason DeWater's basement in 2012, the company has grown to become one of the nation's largest independent repair firms specializing in smartphones, tablets and laptops. Today, iFixOmaha has four stores plus on-the-spot, pop-up shop and concierge repair options.
"iFixOmaha drives with its technical innovations and unique customer-first approach to service and warranty protections. Our company gives back to the community and leads the fight for consumer rights for repair across several industries," says DeWater, one of the Midlands Business Journal's 40 Under 40 in 2016.
Winning Insights from Our June Winner:
Providing an Excellent Customer Experience
"Our service is need-based and typically, people are not happy when they come to us. Our customer service includes a high degree of empathy because of this. Then, when we follow through with fast, reliable service at Omaha's best value, we make a stressful transaction a happy one."
Empowering Employees and Creating a Culture in which They Can Grow and Succeed
"As a small business, we rely on our employees' input and feedback. We encourage ideas, suggestions, and are happy to incorporate (and praise) any and all good ideas. At this moment, we are creating our first employee professional development program. We intend to offer one professional development activity per quarter. First up is a three-hour course about basic professionalism."
Value of Chamber Involvement
"With membership comes credibility. We firmly believe people seek us out the first time because of our affiliation with the Greater Omaha Chamber. They come back because of our great service and value."
Prioritizing Community Involvement
"Community involvement is a priority of iFO. We've donated hundreds of pounds of non-perishable food and packaged diapers to four Greater Omaha food pantries. We participate with TAGG (Together a Greater Good) and have enabled many customers to give back to organizations of their own choice. We are active in four area chambers of commerce. Now that we carry accessories, we are excited to donate auction items to Greater Omaha fundraisers."
Want to learn more about iFixOmaha? Check out the store's website.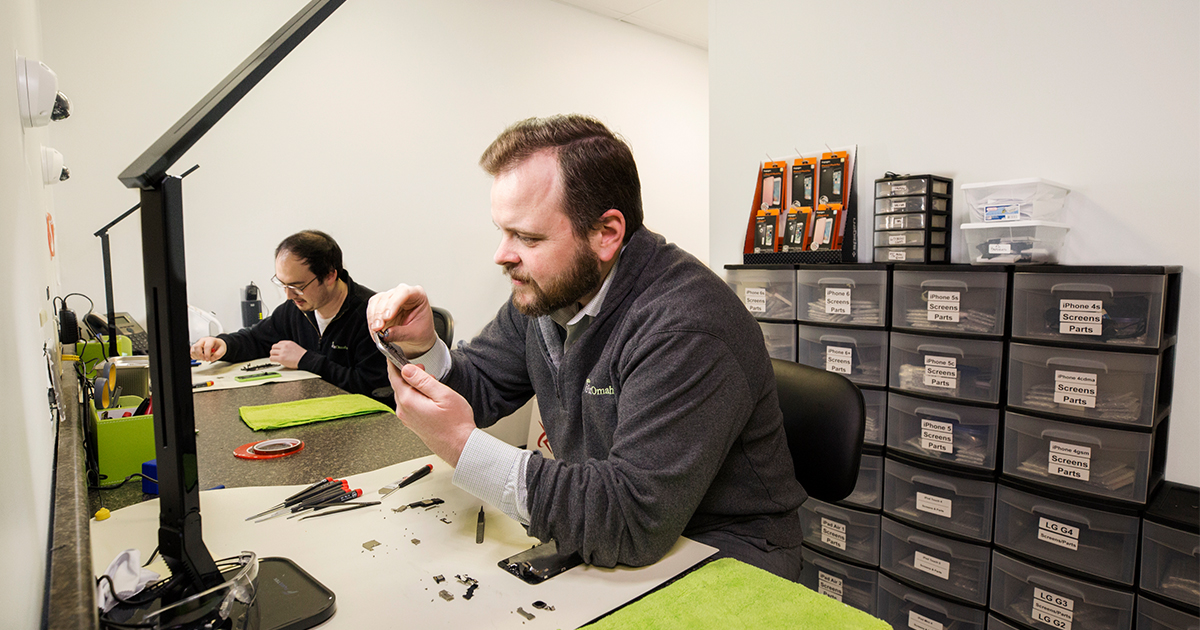 United Republic Bank is the sponsor of the Small Business of the Month award. View more information or nominate a small business online.