At Pulp Paperie + Gifts, they know the power of a personal sentiment and the way a carefully-chosen gift can elevate the lives of those around us.
"We strive to enrich human connections, to keep in touch with the important people in our lives and to celebrate our own well-deserved achievements," says Pulp owner Erin Luong.
Her midtown boutique helps cultivate thoughtfulness with its selection of custom stationery, ink and artisan greeting cards created by local makers – and its range of gifts, jewelry and décor made in the USA.
"In the Spring of 2014, I made the decision to commit all my time and energy into building my dream business, one that would improve the local economy and community with a focus on sustainable goods and social giving," Luong recalls. "I sat down with a cheap $.29 spiral notebook that day and that's how Pulp's story began. We're approaching our two-year anniversary this May."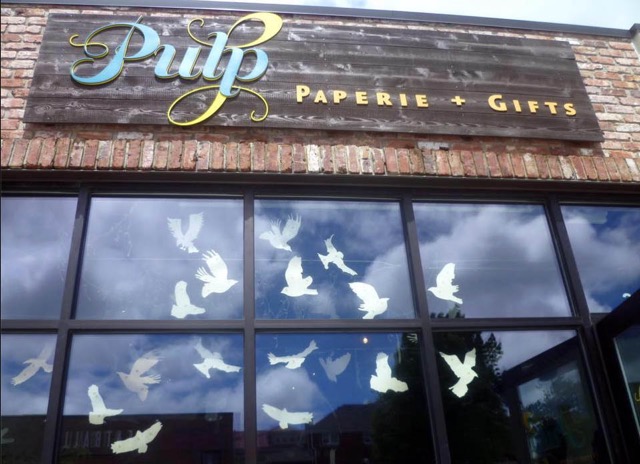 Winning Insights from Our February Winner:
Innovating and Keeping Entrepreneurial Spirit Alive
"I love finding new vendors to partner with to provide unique, quality products for our patrons. There's also a wide variety of community outreach events we've held: art openings, pop-up shops, classes, workshops. There are truly no limits with our business and so many fun ideas with this amazing community."
Empowering Employees and Creating a Culture in which They Can Grow and Succeed
"We have an open-door policy on creativity, whether it be displays, marketing, etc. We respect and foster each other's interests and have a great degree of mutual trust and friendship."
"We have the ability to make significant change in our communities and local economies by our very nature. As much as possible – people and our environment first; the profits will follow."
Value of Chamber Membership
"Being a Chamber member shows our patrons that we take pride in our community. The opportunities to network with other leaders provide essential support and relevant information to stay up-to-date on vital topics."
Located in the historic and burgeoning Blackstone District, Pulp recently expanded its offerings to include a wide array of customizable products – from invitations, social announcements, stationery and more.
"This way, we're able to provide businesses and individuals access to the products they need while maintaining the local aspect," Luong says.
Pulp has also launched its online Gift Box site, available as a one- to three-month subscription service shipped anywhere in the U.S. or available for Curbside Concierge locally.
To learn more about the boutique and all of its offerings, check out Pulp's website.
United Republic Bank is the sponsor of the Small Business of the Month award. View more information or nominate a small business online.