"From the very first day I opened the doors of my firm, I have made it my priority to cultivate a family-centered environment for not only our employees but also our clients." – Catherine N. Swiniarski, managing attorney and owner, Elder Law of Omaha
Whatever they are working on – whether it's long-term care Medicaid planning or creating an asset preservation trust – attorney Catherine Swiniarski and her team at Elder Law of Omaha have one driving goal: provide premier service to a client base that runs age 55 and older.
"We consider ourselves to be a full-service firm," Swiniarski explains. "This means we look at the goals and concerns of the client and find solutions that will fit not only their current needs but future needs as well. A client that comes in for estate planning may have also received a recent health diagnosis that will eventually lead to the need for long-term care. We can try to alleviate some of the stress that naturally occurs when making end-of-life decisions by providing them with a solid estate plan. At the same time, we can provide them with information on how to save their hard-earned assets while still getting the care they will need in the future."
Winning Insights from Our January Winner:
Innovating and Keeping Entrepreneurial Spirit Alive
"The attorneys and staff of our firm attend training seminars and conferences on a regular basis to ensure that we stay up to date on the best practices for an elder law firm. At these conferences and seminars, we are able to learn about new technology and marketing ideas that will allow us to expand our business."


Empowering Employees and Creating a Culture in which They Can Grow and Succeed
"In 2014, we implemented new technology into our firm that allows our firm to operate on a computer cloud-based system. Because of this, employees are able to work from home if necessary and still have the tools available for them to complete their work. In addition, we believe that family comes first. Employees are provided with the flexibility to adjust their schedules to attend family events, pick their children up at school, and even bring their child to work with them if they have a school holiday."


Best Practice Tip
"Give your employees the opportunity to have a sense of ownership in the business. Something as simple as an employees' night out event can lead to them feeling like they are truly a valued part of your business. This will, in turn, lead to an increase in teamwork and determination to help the business succeed."


Value of Chamber Membership
"Although we are a new member of the Omaha Chamber, we have found that networking with other business owners is a wonderful way to increase referrals but also create a sense of community among the members."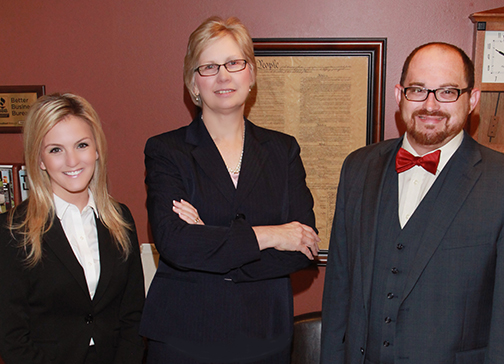 Founded in 2010, Elder Law of Omaha recently opened a second office in Kearney. Swiniarski says she is excited to see what the future holds. "We are continuously looking for opportunities to expand our business in order to fulfill the growing need within our community for elder law attorneys. However, as we grow, I intend to maintain our family-oriented approach to serving our clients. We are, first and foremost, a small business that values our clients and employees."
Want to learn more about Elder Law of Omaha? Check out the firm's website.