Live Large Among Our Giants
We're home to more than 45,000 businesses, including four Fortune 500 and five Fortune 1000 headquarters.
Top Industries
Agribusiness
Financial Services
Logistics/Warehousing
Food Products
Life Science
They Come Here for Better. We are.
Attracting companies and individuals from around the globe –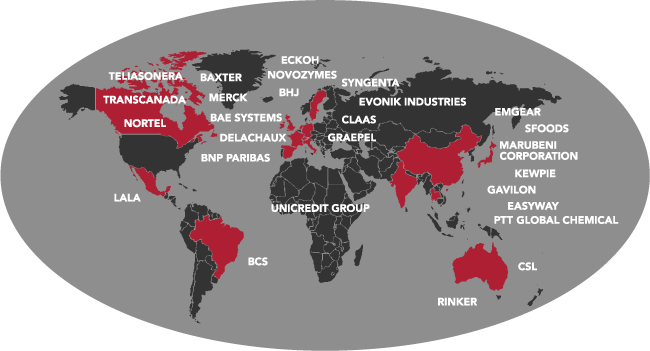 Start in the Middle – and Radiate. That's How We Change our World.
Our region provides an ideal central location for companies to reach their customers quickly and efficiently.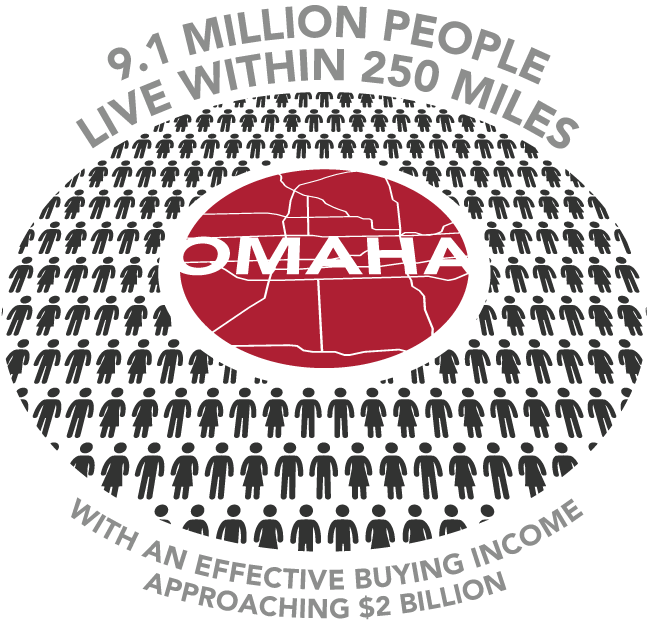 Eppley Airfield offers over 70 departures for domestic and international travel, including non-stop travel to 28 cities.
We enjoy immediate proximity to Interstates 29 and 80 – making it possible to reach the majority of U.S. destinations within two to three days by truck.
Barge traffic can navigate on the Missouri River 10 months out of the year (March – Nov.).
We're a major rail center served by Union Pacific Railroad, Canadian National Railway Company and Burlington Northern Santa Fe.
Foreign Trade Zones
Access to our two foreign-trade zones (19 and 59) assists importers and encourages efficient international trade by reducing, deferring or even eliminating duties on goods.
Increasing Exports
Over the past 10 years, exports have increased by $6.4 billion – totaling $18.5 billion across Nebraska and Iowa. The Greater Omaha MSA totaled $2.9 billion. 2
| Exports | Imports |
| --- | --- |
| Mexico | China |
| Canada | Canada |
| Japan | Germany |
| China | Mexico |
| South Korea | Japan |
| Australia | United Kingdom |
| Hong Kong | Austria |
| Belgium | Switzerland |
| Germany | France |
| Netherlands | India |
We Value Where You're From – and Where You're Going
With highly-valued relationships around the world, we are connected with the global business community, economic development and government organizations as well as our six Sister Cities:
Yantai, China
Braunschweig, Germany
Shizuoka, Japan
Naas, Ireland
Siauliai, Lithuania
Xalapa, Mexico
Exceed Your Boundaries and Flourish
We are a Region Built to Grow Business.
Greater Omaha's labor force totals more than 750,000 people within a 60-mile radius. We boast a motivated and high-quality available workforce and lower than average labor costs.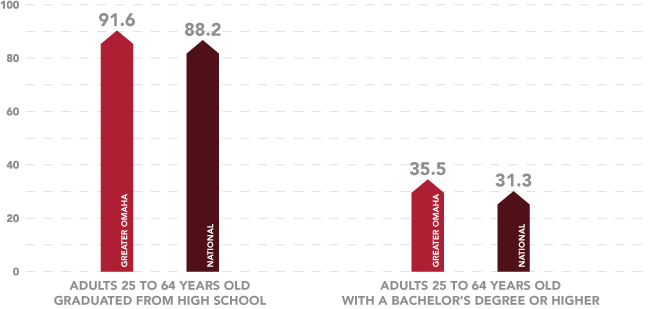 3
Our stable tax structure – for both businesses and individuals – utilizes targeted business tax incentive programs and exemptions at low tax rates.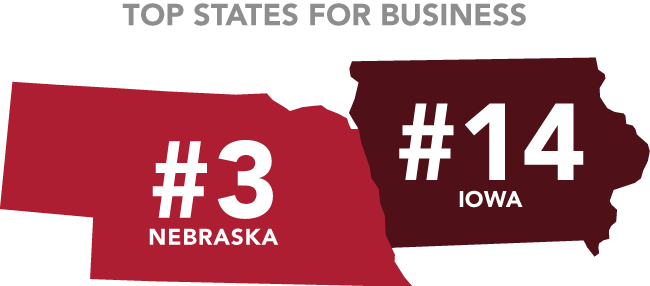 Utilities
Rates for industrial and commercial users are 17.9 and 11.2 percent below the national average
Favorable power generation mix with more than 33 percent from renewable energy, mostly wind power 5
Favorable Climate
Abundant water
Low risk for natural disaster
Tax Incentives
Our incentive and training programs are available to businesses of all sizes.
Flourish Explore, Toast and Live Large with Us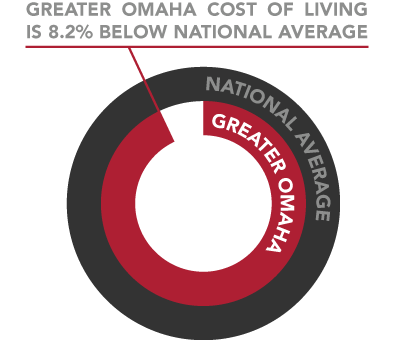 We are a cultural hub, drawing creative and talented people from all over the globe. World-class museums, Broadway-caliber productions, dance companies and renowned symphonies are just a few of the dynamic offerings our community embraces.
Dine in some of the finest restaurants in the U.S. with cuisines ranging from Laotian to classic Midwest steakhouses frequented by our own Warren Buffett. 6
Affordable housing, great schools and universities, and innovative hospitals and medical centers encompass all of the indispensable elements you and your family need to flourish.
Certificates of Origin
Attention exporters – the Greater Omaha Chamber is partnering with eCertify to streamline the way Certificates of Origin are processed. Effective March 1, 2015 we're converting our existing paper-based process to an online system. This will translate into cost savings and efficiency gains for you.
With eCertify, you will:
Eliminate courier costs
Reduce administration costs
Reduce errors
Improve turnaround time
Receive prompt notification of acceptance or rejection
Currently have a log in or an account? Log in here.
The new fee schedule for Certificates of Origin services:
$20/certificate for the first 100 shipments and $10/certificate for 101+ shipments for members, $75/shipment for nonmembers.